Popcorn is not just a tasty snack; it's a whole art of flavor creation. In 2023, POP PAUSE cafe is marking 2 years since opening, bringing its unique taste to the city.
Today, we spent our time in the one-of-a-kind popcorn cafe in Europe and had a chat with Inga Petrycka, the proud POP PAUSE founder.
POP PAUSE began its journey as an idea that came to Inga when she decided to bring something unique and delicious to the world of snacks and to Prague's culinary scene in general. Her passion for popcorn led to the creation of a unique cafe where everyone can try this fragrant and crispy snack in various flavor variations.
Setting POP PAUSE Apart: The Unique Flavors That Define Us
What makes POP PAUSE unique is its variety of popcorn flavors. Here, you'll find everything from sweet and fruity to spicy and exotic options. Perhaps, you'll even discover a new favorite flavor.
Today, POP PAUSE has over 30 different flavors, and Inga's team is looking forward to continuing to invent new tastes which will amuse the consumer.
Crafting Perfection: The Art of Popcorn Preparation
The main secret of Pop Pause is using only the finest ingredients. Popcorn is prepared using natural grains and unique recipes created by Inga.
"Customers love combining tastes, such as something salty with something sweet, or caramel with cheese. Also, classics also can be found on the spot, such as cheddar cheese or the very traditional and unchanged salty popcorn," she says.
Green Commitment: Pioneering Environmental Responsibility in Business
Environmental responsibility is one of the essential aspects of POP PAUSE. Inga mentions striving to reduce the brand's ecological footprint by using biodegradable packaging and recyclable materials.
Approximately 95 percent of the packaging is ecologically clean and biodegradable, such as the package body.
Flavor Fusion: The Inspiring Palette of Popcorn Delights
Selecting flavors for popcorn is a true art, and POP PAUSE's work is only a proof of this. Here, Inga and her team explore various cultures and cuisines to find inspiration for new flavors. They also carefully listen to the customers and consider their preferences when creating new variations. As it was mentioned before, you can go with literally any combination in the shop you can choose!
Beyond Popcorn: Crafting a Welcoming Space for Every Guest
Great importance is placed on making customers feel comfortable, both in the cafe and during delivery. Special attention is paid to interior design. The emphasis was on creating an atmosphere where real people would feel at home.
When it comes to delivery, everything is done to ensure customers receive their orders in perfect condition. No effort or expense is spared to ensure the quality of the packaging because it's essential that customers experience pleasure when unpacking.
Regular promotions are organized related to holidays and events such as Christmas and Halloween. Additionally, the loyalty program offers a way for customers to accumulate rewards and receive discounts on future visits.
The cafe always strives to improve and offer something new and unique to customers. Various cocktails and drinks made from popcorn have been recently added, which has become a real hit with customers.
The plan is to open a new location in the "Máj" shopping center, located on Narodni Trida in Prague. This will enable the expansion of the presence in the Czech Republic and beyond.
As for future plans, there is a keen interest in collaborating with professional chefs and culinary masters. The aim is to collaborate with participants from the "MasterChef" competition to create new and unique dishes using popcorn.
Embark into your POP PAUSE journey with Prague Morning!
If you're in Prague, make sure to swing by their location at Panská 897/12, Prague 1. And for a sweet deal, don't forget to use the promo code "POPPOPAUSEMORNING" to score a generous 20% discount on orders over 299 CZK.
On the morning of Thursday, September 21st, HalfPrice, a well-known off-price retail chain offering a wide range of original branded goods directly from manufacturers at discounted prices, opened a store on Wenceslas Square in Prague.
It has become the largest in all of Central Europe.
The 5,500 square meter store is located in the Diamant building (Václavské náměstí 841/3), where a boutique of the Dutch clothing chain C&A had operated for the last nine years but was forced to close due to restructuring.
Today, in the Czech Republic, HalfPrice stores can be found in Prague, Brno, Liberec, and Ostrava.
In the capital, there are now three of them – on Wenceslas Square, in shopping centers Galerie Harfa and Letňany. In 2022, the company's revenue in the country amounted to 172 million crowns.
The HalfPrice brand belongs to the Polish group CCC and is widely represented in Europe.
The brand's stores can be found in Austria, Croatia, Slovenia, Romania, Latvia, Hungary, Slovakia, and Poland.
Located in Prague's 6 vibrant culinary landscape, Tatyšo is owned by the visionary Patrik Yeranyan. The dishes here showcase the culinary heritage and innovation of Ukraine.
The name itself is a concept that derives from the Ukrainian expression "Tatyšo", which is often used humorously and positively. Patrik explains that the name was chosen to create a specific association in people's minds.
"We wanted a name that would remind people of our bistro. Basically, now everyone will remember our bistro as they say 'Ta Ty Šo…'"
Embracing Culinary Roots
Patrik's journey in the world of gastronomy started with a seafood venture called "Rak in Prag," which laid the foundation for Tatyšo. After more than a decade of experience in seafood and sales, an idea was born that would change how Prague experiences Ukrainian cuisine.
What began as a seafood distribution project quickly evolved into a culinary hub that captivates the senses and tantalizes taste buds. Tatyšo's story is one of transformation, as it shifted from a seafood venture to a bistro, redefining Ukrainian culinary traditions.
Ukrainian Classics, Redefined
Two years ago, Patrik's vision for Tatyšo took shape. This bistro serves as a creative laboratory, where Ukrainian classics are reimagined with contemporary twists. The menu is a testament to this approach.
Beyond its culinary offerings, Tatyšo, along with other restaurants, has a grand vision for the future. Patrik envisions a network of restaurants similar to the Ambiente group.
Culinary Alchemy: Tradition Meets Innovation
At the heart of Tatyšo's ethos lies the art of transformation. The bistro's chefs use modern techniques and European influences to recreate traditional Ukrainian recipes. This results in presenting beloved dishes in a reinterpreted way, such as the Olivier salad with crab necks. Traditional Ukrainian cuisine can also be found on the menu, including Borscht soup, holubtsi, and Ukrainian dumplings.
A Cultural Experience Beyond the Plate
Tatyšo is more than just a dining destination; it's a cultural journey. According to the bistro owner, the place looks forward to hosting workshops that invite people to explore Ukrainian culture. In the future, Tatyšo plans to collaborate with Ukrainian brands that offer locally-made products. This could help create a deeper connection between customers and the essence of Ukraine.
A Legacy of Taste and Vision
As part of their plans for the future, Patrik shares his team's idea of opening a fast-casual restaurant called "Rakin," which is meant to be an extension of his very first passion for seafood products.
Patrik's business approach is to fill the gaps in the restaurant industry on the Prague map.
"The Czech restaurant industry is pretty much untouched… Many things have not been introduced here, and new, fresh, young entrepreneurs are ideal for filling those gaps and bringing something new to the industry."
Tatyšo Ukrainian bistro can be found in Prague 6, in the area of the National Technical University Library.
Today, Prague Morning explores the experiences of Tristan Corneil, a Canadian female football player who signed a contract with the Sparta football club in Prague.
This article tells the story of an overseas expat who fell in love with Prague's slow lifestyle while looking for career opportunities.
Growing up in a family deeply involved in sports, Tristan had to make a significant choice. Her brother was a national volleyball player, her parents excelled in university-level sports, and her sister shared the same passion. However, Tristan's height, 171 and a half centimeters did not meet the typical requirements for volleyball or basketball. Considering these factors, football appeared to be the ideal passion to pursue.
Tristan moved abroad for her football career due to limited opportunities for professional women's football in Canada. The United States has a more developed landscape, with leagues like the National Women's Soccer League (NWSL) providing a platform for female athletes.
However, even in the US, it can still be challenging for a female athlete to find a real professional path.
"…In the US, you can only play female football at a semi-professional level, which is definitely not enough to make a living and pursue your passion year-round…"
The best decision was to move overseas to Prague, where FC "Sparta" gave Tristan the opportunity to flourish professionally.
Tristan's journey encompasses her passion for football and her pursuit of a career in physiotherapy. She emphasizes the importance of physiotherapists who understand the challenges athletes face.
Her own experiences with injuries drive her to excel in both her football career and education. The holistic approach to sports medicine aligns perfectly with her passion for athletics.
Visualizza questo post su Instagram
"I would prefer to work as a physiotherapist for a team rather than in a clinic because I would love to work more with athletes."
When considering preferred locations for settling down, Tristan is torn between Sweden and the Czech Republic, emphasizing their welcoming nature and how both cultures have embraced her.
Talking about life in Europe from the Canadian sight, slow life living is just different from North America.
"…In North America, work is very much at the forefront, while in Europe, it's more about building relationships and leading a healthy lifestyle. For example, in Sweden, they have a daily coffee break called "FIKA", which encourages breaks and socializing. It's refreshing to see that people in Europe don't solely focus on advancing to the next thing because, with that mindset, it's challenging to fully appreciate what you achieve. Being abroad has taught me to enjoy life, explore new places, spend time with friends, and strike a balance between work and life…"
Living in close proximity to the university and having the possibility to return to his parent's home gave Tristan a feeling of comfort. Although being in her own bubble in Canada made assimilation in Europe somewhat challenging, she adapted quickly.
"… after immersing myself into the European lifestyle, I had to make my own connections and figure out how to grow personally. I needed to adapt quickly and either enjoy my time or not."
Tristan is determined to continue building her professional career in Prague, a city she adores. As someone who loves football and wants to experience new things, Prague is the perfect place for her. She states, "I want to continue growing and building a future here."
Recently, Prague Morning had the pleasure to meet Kiyani Johnson, a talented football player whose athletics journey took her from her early years on the field to the vibrant city of Prague.
Like many expats, Kiyani's story is one of passion, cultural discovery, and the pursuit of her dreams. Now, her journey is in Prague thanks to Sparta Prague Football Club, where Kiyani is happy to have her contract.
Kiyani's connection to football began at a young age, and it quickly became a significant part of her life. But what fueled her journey to becoming a professional football player? We sat down with Kiyani to learn about her background and the role her family played in shaping her career.
Kiyani's journey from her native Canada to Prague was marked by significant cultural and lifestyle differences.
"So I would say we don't actually currently have a professional women's football league in Canada," she explains. "A lot of players go overseas to play either in America or they cross over to Europe."
In Prague, Kiyani discovered a new level of passion for the sport. "I feel like there's a lot more passion because there's history to a lot of the clubs here versus in North America," she says. "When you come and play for a big club like Sparta, you feel the passion and that energy, and it's transmitted through the rest of the players."
The cultural diversity of Prague surprised Kiyani. "I would say it's pretty similar being in Prague compared to Toronto where I'm from," she notes.
Like a lot of expats from overseas, Kiyani mentions the slow lifestyle in Prague. Compared with always-on-run Northern America, the Czech Republic is more relaxed. In the meantime, people are running for money and wealth in the US and Canada, and Czechs are opting for making relationships and personal wellness development.
Balancing her professional commitments with exploring Prague's rich cultural heritage hasn't been easy, but Kiyani is making the most of her time in the city.
"I haven't had much time to explore as much as I really wanted to. But now that I'm finally settled in my new apartment, I will definitely start."
Kiyani finds solace in the urban life of Prague, which she compares to her hometown near Toronto. "I would say it's similar in the lifestyle of going and doing things, but there's definitely much more to see here," she observes.
This multifaceted expatriate also has hobbies outside of football. "I do like to draw sometimes," Kiyani shares. "I've been reading a little bit here."
As our conversation comes to an end, Kiyani reflects on her journey and the future. "Being able to play professionally now, it's like a massive dream come true. I owe it all to my family and the passion I've found here in Prague."
Kiyani's story is a testament to the power of following one's passion and embracing new cultures. In the heart of Prague, she has found a second home, a thriving football career, and a deep appreciation for the city's diverse culture and history.
As she continues to balance her professional commitments and her love for exploration, Kiyani Johnson's expat journey is one of inspiration and determination.
The month of July in the Czech Republic this year secured its spot as the eighth warmest since 1961, when national temperature records began. The average index in Prague was 19.6 degrees Celsius.
As for rainfall, the month stayed within normal levels, according to today's announcement by the Czech Hydrometeorological Institute (CHMI) on its website.
Experts at Copernicus, a European program tracking atmospheric and climate changes, went a step further, proclaiming this year's July as the warmest eighth month ever recorded worldwide, boasting an average temperature of 16.95 degrees – a 0.33-degree increase over the former record-holder, July 2019.
On the domestic front, meteorologists have noted that the highest July average temperature was seen 17 years ago, reaching 21.3 degrees. Conversely, the chilliest July was back in 1979, when the average temperature dipped to 14.6 degrees.
During the early summer break, temperatures in Moravia and Silesia were slightly higher, averaging 20.1 degrees, compared to Bohemia, which experienced a cooler average of 0.7 degrees.
In historical context, July marked the ninth hottest month since records began 249 years ago at Prague's Klementinum, with the average temperature being 23.2 degrees.
For the entire country, the average temperature during the monitored month exceeded the 1991-2020 norm by 1.3 degrees, as reported by CHMI. July 15th stood out as the warmest day, with average temperatures soaring over seven degrees above the established norm across the nation.
On this day, more than 70 CHMI stations recorded daily highs surpassing 35 degrees. Meteorologists also highlighted the peak daily air temperature for the month, reaching 38.6 degrees at the Plzeň – Bolevec station. The highest-ever July temperature record remains at 40.2 degrees, which was recorded on July 27, 1983, in Prague's Uhříněves.
Regarding precipitation, July aligned with the norm. Meteorologists registered 59 millimeters of rainfall, which is equivalent to 66 percent of the 1991-2020 average.
In terms of rainfall compared to the norm, July had the highest levels in the Karlovy Vary, Moravia-Silesia, and Hradec Králové regions, while the South Bohemian and Vysočina regions experienced the least rainfall.
The Miners, the largest specialty coffee chain in the Czech Republic, launched their first-of-its-kind Miners Bakery in Karlin in late June 2023. Intrigued by this unique concept, we couldn't wait to explore it.
Entering the coffee shop, you can see the most significant difference between the spot — the open kitchen. Egor Kolpakov, Miners CEO, says that transparency is the main point of such interior decisions. Although, you can spot the similar format of the Miners roastery, found on the DOCK facility.
Transparency is the key element of the Miners, Egor says.
["This story is about the transparency overall… I have never seen a business in Czechia where you can find, for instance, an owner-made Telegram channel, where all the insights can be found…"]
Raising the trust among the customers helps to maintain sustainable and long-running business, Egor adds.
As before, you can find Miners-made production on-site, such as nitro coffee and compostable coffee capsules. Besides, at Miners Karlin, you can find branded reusable coffee bamboo cups, which became an expansion of their merch.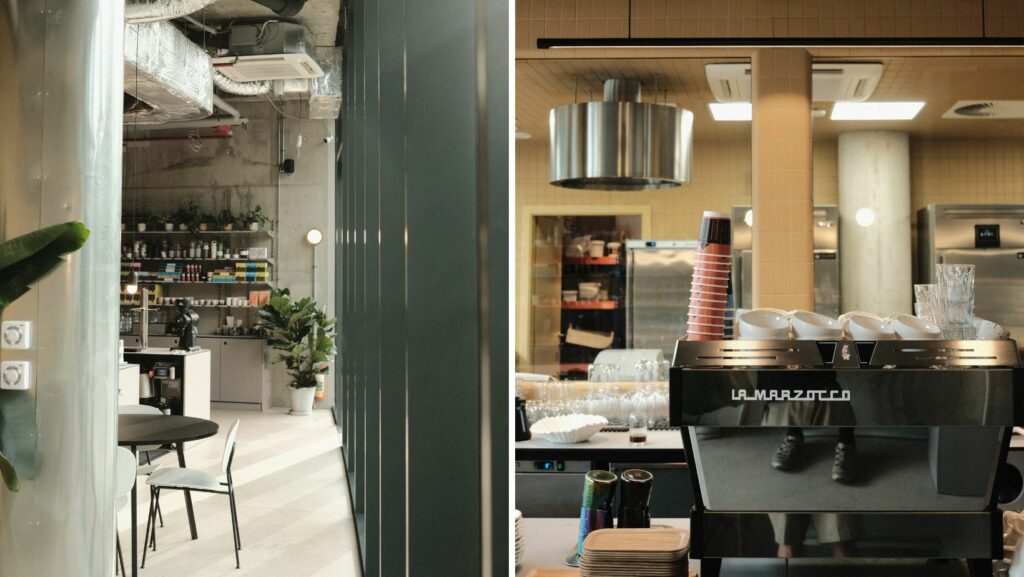 Another important aspect Miners Karlin will be dealing with is fresh baked goods delivery across all our facilities, Egor says. While other cafés will be closed, Karlin branch will be producing fresh pastry overnight so all Miners' guests will have warm cinnamon rolls and babka cakes right after the cafes will be opened.
The coffee chain is the first to combine speed and comfort in the world of specialty coffee shops. Inspiring people to live an awesome urban lifestyle, that's what the company's motto sounds like, and it matches the way how the cafes works and serves.
Egor mentions that the Miners can be distinguished from the other coffee shops by the exclusive binding with the place and effectiveness of service.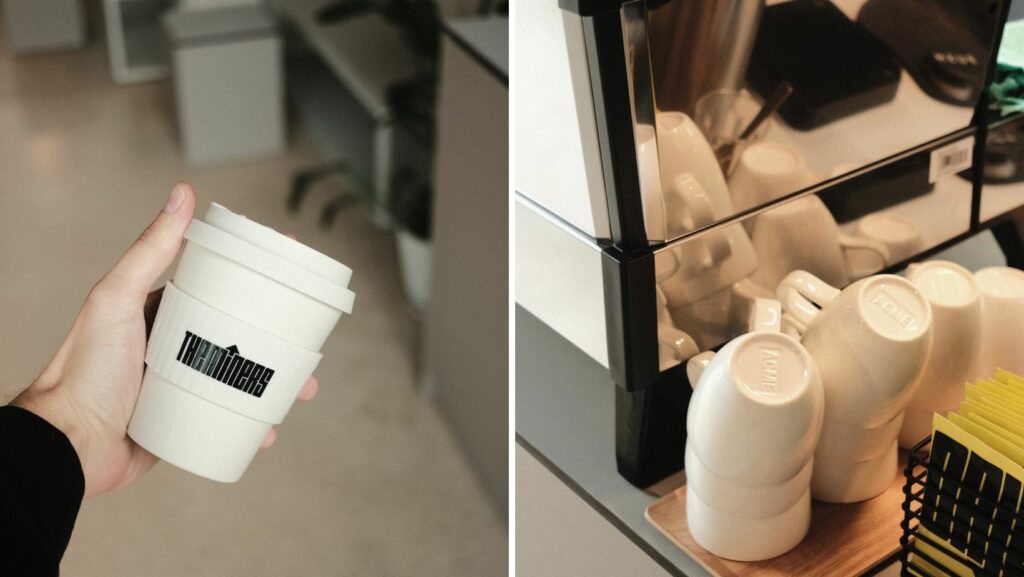 ["…I see that most places in Prague are still maintaining the so-called Slow Living approach, where you can wait for your V60-style coffee a dozen minutes, while sitting on the squeaky wooden chair taken from the school down the street… The Miners is different: each place has a unique bond with the place it is located in, new furniture, new interior…"]
Egor wants everything to be fun to deal with. Since the Barry Higgels coffeehouse establishing on Holesovice in 2016, Miners' creator business vision has changed a lot. Distinguishing entrepreneurs from businessmen, Egor mentions that the latter lack creativity when entering such creative coffee-related businesses.
As per Egor, the place is crucial for the Miners. Each cafe will have a strong association with the place it is located, and vice versa, the place will be associated with any particular coffee shop.
The chain has stepped away from making their place grunge-like and vintage attributed-stuffed inside. Instead, you will find new and comfortable furniture inside, where you can maintain your 110-percent style of living. Whatever you will be doing at Miners, you will be inside an awesome urban lifestyle, by working, relaxing, or meeting with friends.
After becoming the largest specialty coffee chain in Europe (spoiler: it will happen really soon) and the Middle East, Egor does not hide intentions to rock the US.
At present, the Miners operate eight coffee shops across Europe, with seven of them located in Prague. Given the chain's age, it undoubtedly ranks as one of the largest players in the specialty coffee market.
Summer is a fantastic time for cyclists, particularly when new cycling routes are being created throughout the Czech Republic.
These paths lead to picturesque places and are gaining popularity, encouraging more people to ride their bikes. Among the many favorite cycling paths, we have carefully selected seven well-tested and popular ones for you to explore.
The Elbe River Trail:
Consistently ranked among the most popular cycling routes, the Elbe River Trail is a diverse long-distance path in Europe. It forms a part of the EuroVelo 4 and EuroVelo 7 European cycling routes and spans 1300 kilometers from the source of the Elbe River to the North Sea.
If you prefer to stay within the Czech borders, there is a 370-kilometer section of the trail passing through Hradec Králové, Pardubice, Central Bohemia, and Ústí nad Labem. The entire Elbe River Trail offers countless sections to explore.
One of the most beloved segments is the 150-kilometer route from Prague to Českosaské Švýcarsko (Czech-Saxon Switzerland), taking you through Mělník, Litoměřice, Ústí nad Labem, and concluding in Děčín. It's an ideal option for an extended weekend trip.
Along the way, you'll have the opportunity to explore various landmarks and points of interest, such as Kuks, the Josefov and Terezín fortresses, Dvůr Králové nad Labem Zoo, and Lobkowicz Castle in Roudnice nad Labem. For essential information, such as route suggestions and accommodation options, you can visit the official website.
Třeboň educational trail:
The South Bohemian region, particularly around Třeboň, is a cycling paradise with stunning cycling paths. One such path is the Třeboň educational trail, a 39-kilometer closed circuit with 22 stops featuring information boards in Czech and English. These boards provide essential information about the Třeboň region and its history.
The trail includes several main stops, such as the Svět pond, Zlatá stoka medieval structures, Soví les, Vyšehrad pond, and the town of Třeboň itself.
At each of these stops, you can enjoy the magnificent landscape and observe rare bird and plant species or the famous Třeboň bogs. Throughout the route, you'll also find several pubs and restaurants for refreshments.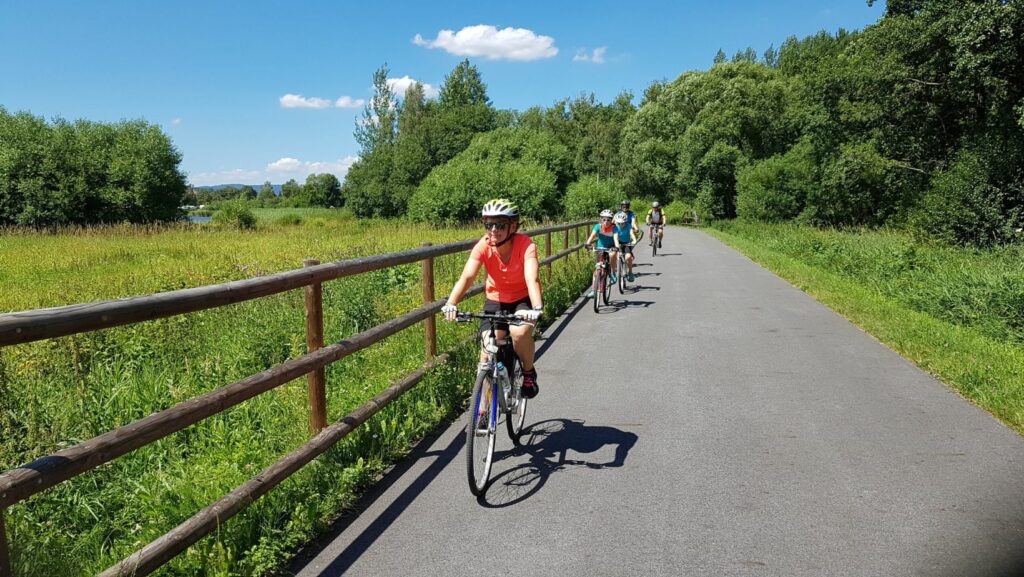 Cycle path A1 — From Prague to Karlštejn:
A favorite route among residents of the capital city is the one leading to Karlštejn. Starting from the center of Prague, the path follows the Vltava River to Lahovice and then continues alongside the Berounka River through Radotín, Černošice, Dobřichovice, and Hlásná Třebáň until reaching Karlštejn.
This 26-kilometer route is relatively easy, consisting mostly of flat terrain. Along the way, you'll come across places like the U Ondřeje bistro or the Říční lázně in Radotín for refreshments.
You can also find the Radotín Ski and Bike Centrum, where you can explore cycling-related products and get your bike repaired if needed. The ultimate destination is the magnificent Karlštejn Castle. For those who prefer not to cycle back, there's the option to use the train service, which conveniently accommodates bicycles as well.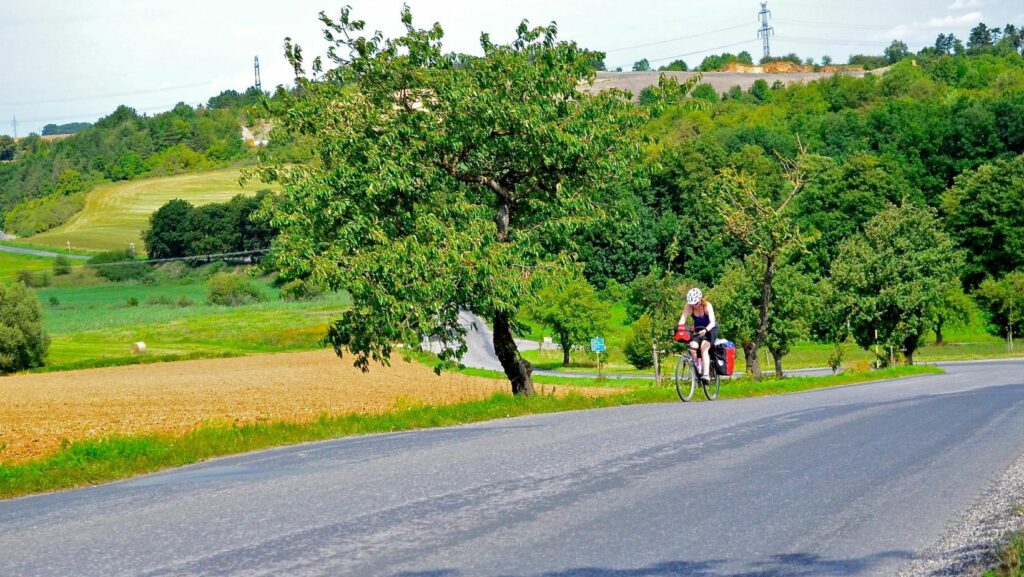 Morava wine paths:
For cycling and wine enthusiasts, the perfect destination is South Moravia, where the wine regions are interwoven with 1200 kilometers of cycling routes connected into 10 circuits named after the original wine regions. The main Moravian Wine Trail, 245 kilometers long, links Znojmo and Uherské Hradiště.
Among the various options, the Bzenecká Trail offers a relaxed 30-kilometer ride suitable for family outings. The Znojemská Trail, on the other hand, covers 189 kilometers and connects 55 wine-growing villages. Another route, called Mikulovská, stretches for 84 kilometers and leads through the UNESCO-listed Lednice-Valtice area.
While wine tasting during your journey is not recommended due to the risk of alcohol and cycling, you can still explore the routes on foot and indulge in wine tasting without concerns.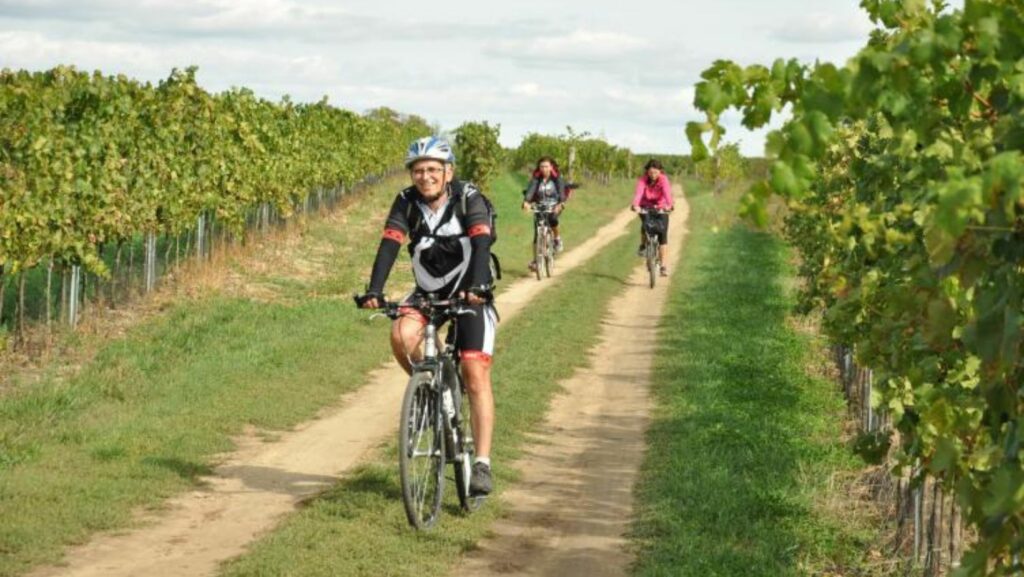 The Golden Trail of the Bohemian Paradise:
The Bohemian Paradise is a beloved tourist destination, and the Golden Trail has been an integral part of this region since the late 1930s. The cycling version of the trail is slightly longer than the hiking path, spanning 122 kilometers. While most of the cycling route follows the hiking path, some sections divert to ensure nature conservation and safety.
The Golden Trail is more challenging and diverse compared to previous trails, making it unsuitable for road bikes. Elevation gains of up to 2300 meters can be expected in certain areas.
The route starts in Jičín and takes you past numerous major landmarks and sites in the Bohemian Paradise, including Kozákova, Frýdštejn, Valdštejn, Hrubé skály, and Kosti. There are abundant options for refreshments along the journey.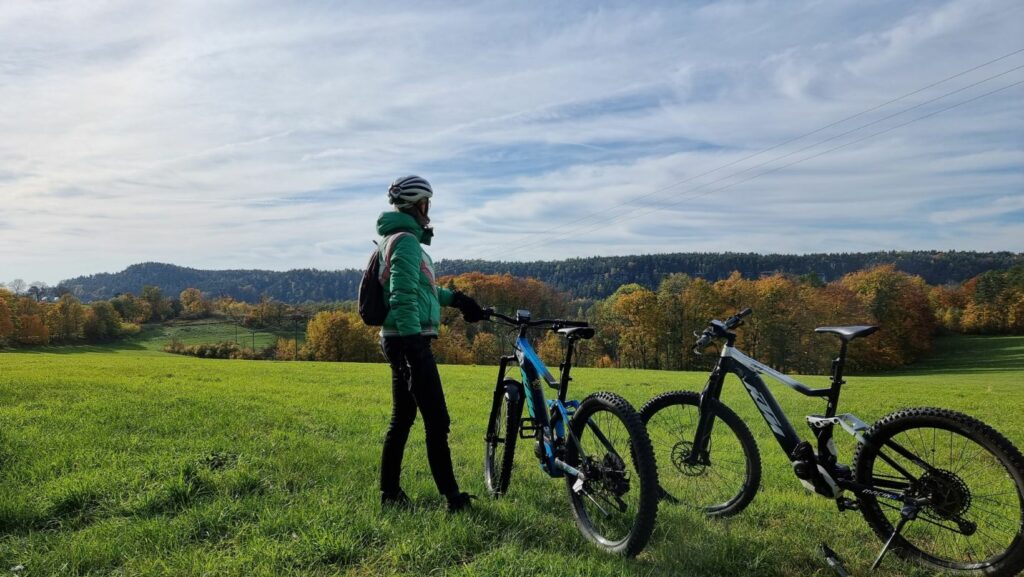 Liechtenstein paths:
The Liechtenstein Trails, known as "Lichtenštejnské stezky," consist of six interconnected routes spanning the Lednice-Valtice area and a portion of Lower Austria. These trails are named after the famous noble family, the House of Liechtenstein. The main trail, the "Knížecí stezka" or Prince's Trail, covers 86 kilometers and features an easy terrain.
It takes you around famous landmarks like Janov Castle, Dianina Temple, and the colonnades at Reistna. There are other easy trails, such as "Břeclavská" (16 kilometers), "Poštorenská" (12 kilometers), and "Lednická" (23 kilometers). For a slightly more challenging experience, you can opt for the 25-kilometer "Valtická" trail or the 40-kilometer "Habánská" route.
The cycling path along the Baťa Canal:
Finally, our cycling adventure concludes in the eastern region of Moravia, along the Baťa Canal. This delightful cycling path extends for over 80 kilometers, running parallel to the canal.
With its mostly asphalt surface, it caters not only to cyclists but also to inline skaters. The trail is exceptionally safe, as it is mostly isolated from motorized traffic, with only a few sections where you may encounter vehicles.
A new center of excellence for generative artificial intelligence (AI) has been inaugurated in Prague at Chodov by IBM Consulting.
The center's primary focus is to assist businesses in enhancing the security and efficiency of their employees' work with AI. Companies across various sectors, including marketing, human resources, and finance, utilize AI services alongside their IT needs. However, the intention is not to replace human labor with AI.
Martin Švík, the CTO of IBM for the Central, Northern, and Eastern Europe region, remarks, "following the initial excitement during the launch of ChatGPT, we are now entering a phase of sobering." According to Švík, centers specializing in generative AI, which enables the creation of texts, images, and diverse content based on training data, have experienced a swift start.
Clients have reported up to a seventy percent increase in work efficiency with the initial implementation of AI models, as stated by Peter Vaculík, the manager of the AI center in Prague. This improvement has been observed across industries, including banking and mobile operators. Additionally, the center places a strong emphasis on data security, considering the valid concerns surrounding AI bias and data protection.
Vaculík further explains that deploying enterprise AI on a large scale requires a complex internal strategy involving multiple models, with humans remaining at the core.
Artificial intelligence has found application even in electric scooters. Companies recognize the significance of regulation in this regard.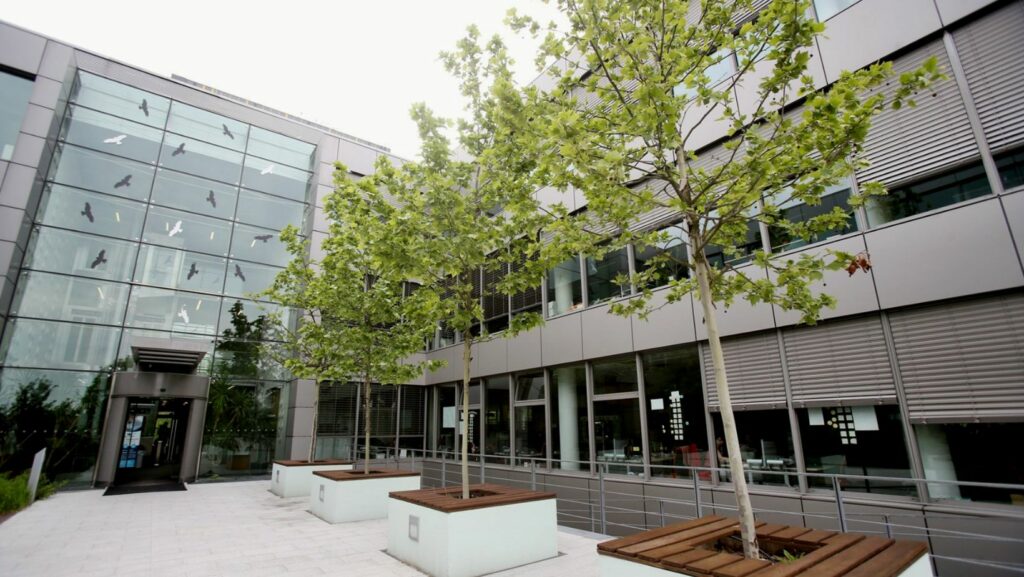 A recent survey conducted by the IBM Institute for Business Value reveals that 79% of executives struggle to ensure the safety and absence of discriminatory or biased patterns in their AI models.
Švík informs, "The new center builds upon decades of experience in the field and domain of artificial intelligence, helping some of the world's largest organizations transform their key processes."
The survey indicates that generative AI is predominantly employed in finance (34%), human resources (41%), supply chain management (45%), marketing and sales (40%), customer services (57%), and IT services and technologies (63%).
Vaculík highlights that generative AI can automate routine tasks, enabling employees to focus on higher-value activities. It also possesses substantial potential in creative content and code generation, content summarization, and search.
However, according to Dominik Hádl, SVP CEO of consulting firm Monsterlab, AI is currently an assistant and won't fully replace human professionals for a considerable time.
He believes AI will enhance work efficiency and performance in various fields but acknowledges that it is still unable to generate new solutions independently. Human involvement remains crucial in the complex realm of software engineering, though advancements and increased autonomy from AI can be anticipated in the future.
The summer heat is picking up in Prague, making trips on public ground transportation quite challenging.
For those who struggle with hot and stuffy conditions, the city's transportation authorities have provided a visual guide to identifying trams equipped with air conditioning.
All trams of the Škoda 15T4 model come with an onboard climate control system. They can be easily recognized by the presence of yellow plastic inserts in the front section. Currently, there are 127 of these air-conditioned trams operating on Prague's streets. Air conditioning is a standard feature in these trams.
On the other hand, trams of the earlier Škoda 15T model have air conditioning only in the driver's cabin, while the passenger compartment lacks this amenity. The front section of these trams is designed in gray and red colors and does not include the yellow inserts.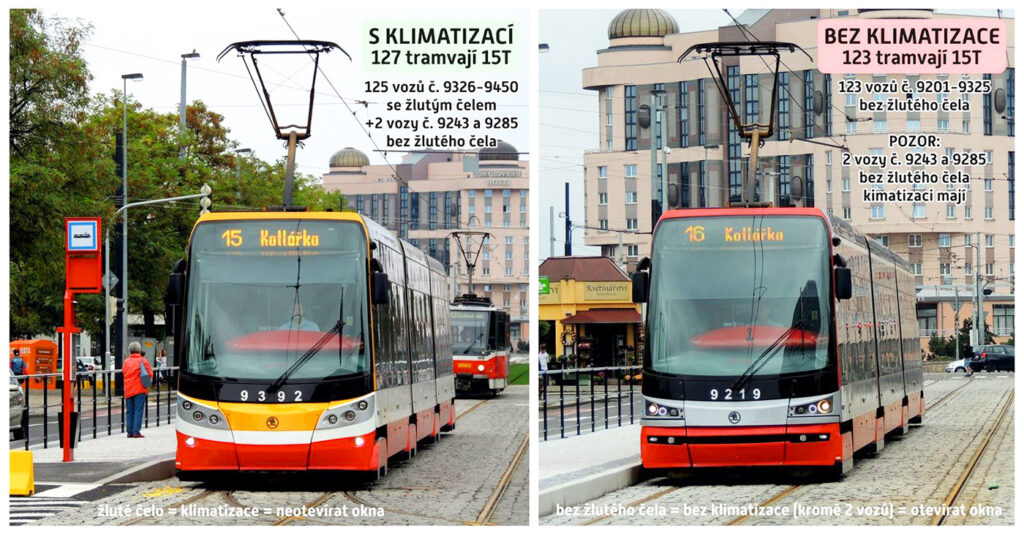 However, there is an exception – two gray Škoda 15T trams do have air conditioning in the passenger compartment (they were installed as an experiment). These trams can be identified by their registration numbers 9243 and 9285, which are displayed on the front section of the tram.
Another way to find out in advance when a tram or bus with air conditioning will arrive at a stop is by using the official online map of the Prague public transportation system, which shows the real-time location of all operating trams and buses.
Simply enter the desired route in the corresponding field, and the map will display all the buses or trams operating on that route. Then, click on the one that is closest to your desired stop and check if there is a "snowflake" icon in its description.
If there is, it means that the tram or bus is equipped with air conditioning.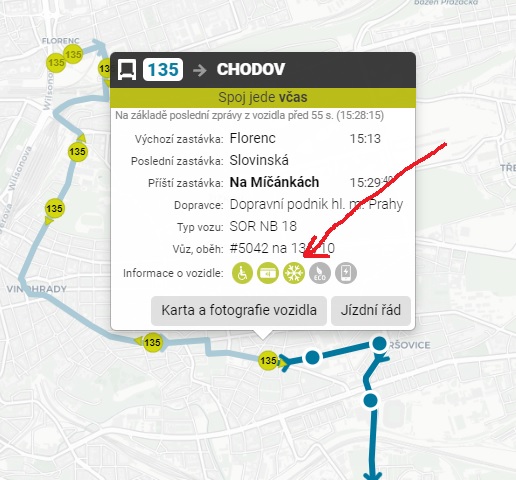 It is worth emphasizing that the climate control in the Prague public transportation system operates automatically and activates itself when the temperature inside the cabin exceeds 22 degrees Celsius. Drivers do not have the technical capability to adjust it according to their personal preferences.
"The situation is quite challenging as passengers who feel hot complain about insufficient air conditioning, while others express concerns about feeling too cold and potentially catching a cold. Striking the perfect balance in this matter is extremely difficult," stated the Prague Transport Company.
Last year, a record number of 8.33 million inspections were conducted by controllers in Prague's public transportation, resulting in 255,115 fines and a collection of 227.9 million CZK by the Prague Public Transit Company (DPP).
This marks the highest number of passengers checked and fines collected since at least 2016, according to representatives from the DPP.
In comparison, the previous year saw approximately 8.18 million inspections and 219,607 fines issued, amounting to around 172.2 million CZK in fines.
In the past year, there was a notable increase in the number of fines issued despite a similar number of inspections, which can be attributed to various factors, according to Petr Witowski, the company's director. One possible explanation is fares' high cost, leading people to cut back on ticket expenses.
Another contributing factor could be the rise in remote work, resulting in more individuals opting for single-ride tickets or even attempting to travel without a valid ticket.
However, Witowski mentioned that in such cases, many fare evaders acknowledge their mistake and promptly pay the fine, often using card payment methods. Compared to the previous year, the percentage of immediate fine payments has increased to 50% from 37.2%.
Furthermore, 26.3% of individuals paid their fines within a thirty-day period, with approximately a quarter opting for cashless transactions. On the other hand, 23.7% of fines remained unpaid and were subsequently sent for further collection.
The director attributes the increase in inspections to the incentivization system for inspectors. Their performance is tied to the number of passengers checked, which affects a portion of their compensation.
Despite the growing need for inspections, the number of inspectors has remained stable, with around 150 individuals responsible for this role.
In Prague, the penalty for fare evasion stands at 1500 Czech koruna, but it can be reduced to 1000 CZK if paid immediately or within 15 days.
Additionally, the fine for forgetting an MHD travel card amounts to 50 CZK. It is worth noting that the DPP, the largest municipal company in Prague, employs nearly 11,000 individuals.
Even though the start of the Tour de France is still a few weeks away, amateur cyclists will have the chance to get a taste of its atmosphere much earlier.
The third edition of the L'Etape Czech Republic race is taking place this Saturday, and once again, it is attracting thousands of enthusiastic participants.
The long (142 km) and medium (103 km) routes have been sold out for quite some time. The interest was so high that the organizers even increased the original limits to accommodate five hundred and fifteen hundred participants, respectively.
Registration is now only open for the shortest option, a 65-kilometer route. Online registration is available until Thursday, and on-site registration will be possible on Friday. 
Roads are closed throughout the entire length of the routes. The iconic starting and finishing point at Strahov, which hosted the 1981 World Championships, and a scenic passage through the charming regions of Křivoklát and Beroun.
While the race itself is scheduled for Saturday, the festivities will commence in the village of Strahov on Friday from three o'clock.
Participants will have the chance to encounter some renowned athletes at Strahov or along the course. Notable figures such as road cyclists Zdeněk Štybar and Ján Svorada, speed skater Martina Sáblíková, track cyclist Tomáš Bábek, and football goalkeeper Petr Čech will be in attendance.
Following the race conclusion, the festivities will continue in the village at Strahov, where the winners will be honored in an award ceremony.