The Lunchmeat Festival returns with its Autumn program from September 25th – 30th.
Dedicated to electronica with an emphasis on visual and musical artists in collaboration, Lunchmeat brings the highest level of experimental digital artists collaborating with musicians/producers/DJs annually. Lunchmeat Festival includes a symposium, and it is spread out in venues around Prague, for a most local flavor.
While this is an international festival with mostly multi-nationality collaborations, this year's program is de-emphasizing headliners, for a more helpful promotion and support of the local artist community.
The musical programming has been refined for this year's festival, and that said, some visiting artists are contributing to a noticeable shift to a dreamier side, for instance Marina Herlop from Catalonia, as a classically-trained, experimental pianist and vocalist. Her 2022 album "Pripyat" is refreshing (singing in an imagined language); her voice is influenced by Bjorn, Laurie Anderson, and possibly even the Bulgarian Woman's Choir, but uniquely as a solo project (thanks to vocal manipulation/digital production), she makes a wondrous sea of dreams in sound.
Another classically-trained pianist, Corin, takes this approach to an edgier zone with her project Lux Aeterna (an AV live performance). Corin is described as music for the end of our civilization, with computer-machines run amuk, and the surviving humanity as mutants. She is their dramatic soundtrack.
Overall, the programming of Lunchmeat can alternate between dreamy soundscapes (with complimentary visual projections) to sonic-thumping celebrations or brute assaults (with overwhelming or blinding visuals to match). One of the hardest hitters in electronica, in this year's festival, is Evian Christ, from the UK, who is best known for his collaborations with Kanye West (on West's "Yeezus"). Within electronica, he identifies most with trance but on futuristic or more boldly epic proportions. Evian Christ will perform in an AV live show by a long-time collaborator of his, Emmanuel Biard.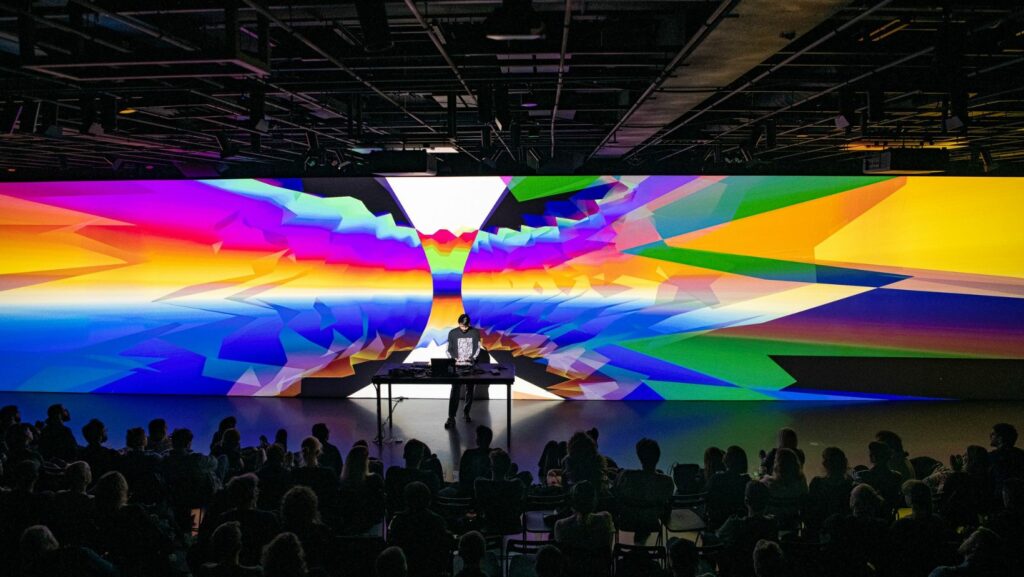 There is a match of high-energy club beats with state-of-the art visuals with Kenyan DJ and producer Slikback and pioneering UK experimental animation and digital art guru, Weirdcore. Their project, VOID, is an audiovisual journey in anime and manga meets afro-futurism (for post-colonial horizons). And for a mixed-genre or fusion-experimenter in Dubstep, there will be the UK DJ-producer Pinch.
The French digital artist, Sybil Montet with award-winning Danish electronica composer, SØS Gunver Ryberg, who is also a sound-artist and performer (DJ) will present the world premiere of their project "Weaving Fields." This live AV performance has been commissioned by Lunchmeat. Duos, such as this one, are the highlights of the festival when artists create immersive club experiences.
Choreographic theatrics is a new addition with Hakanai, a French duo (Claire Bardainne and Adrien Mondat), with an immersive project and a social message. Their name comes from an ancient Japanese term for impermanence, fragility and the brevity of certain transitory states including humanity's brief period on Earth, which seems to be pushing to its end at a rapid pace. But such are the cycles of life.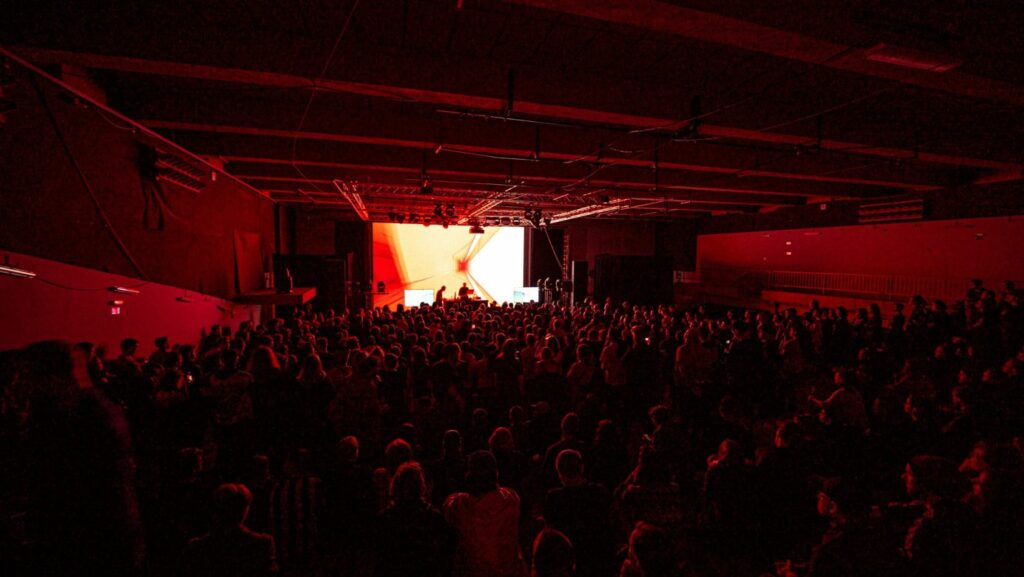 There are always artists from Berlin for this festival, and this year includes Bill Kouligas, who is also founder of the music label Pan (which coincidentally released Marina Herlop's "Pripyat"). Kouligas can be a high-plains ambient drifter, but he will perform a DJ set that will certainly not be for chill-out. Also from Germany, there is Space Drum Meditation (from Hamburg) for dark, driving percussions.
The Korean artist and musician, bela, from Seoul but based in Berlin, is most influenced by Korean folk music and club culture, and so they bring an altogether different recipe to the menu. Then Meuko! Meuko! as a DJ and producer from Taiwan teaming up with Taiwanese visual artist NONEYE have an immersive experience steeped in Taoist and Buddhist dieties as a ritualistic feast for eyes and ears. Such variety in the programming underscores that Lunchmeat is unmatched in its international scope.
But with such a platform, it is also an opportunity to highlight top local artists, including those who are rising in the international community, such as MARTYYNA, a Prague DJ and producer who debuted in 2020 with her EP "Awaken." During the day, she is a professional architect, but an artist by night (when she is performing) inspired by the confluences of music and architecture. She will perform her debut full-length recording "Written in the Scars," which features Czech artist Oliver Torr and the Basque-born Berlin-based producer Portento. This performance will also debut a new AV show with MARTYYNA and another collaborator of hers, the Prague-based visual artist Igor Lorok.
For the 14th annual Lunchmeat Festival, the venues continue with its headquarters in an underground space at the National Gallery's Trade Fair Palace, then alternative sites including Archa Theatre, CAMP, and Ankali. It is a five-day event (with an emphasis on late-night till dawn attractions for some venues).
And for just the curious, on Saturday, 30th of September, there is an open-air event outside of the National Gallery (Veletržní Palác) with surprise DJ guests, and this is a free event to the public.
The Prague Sounds Festival, previously Strings of Autumn, has evolved into a more adventuresome affair on stages in hallowed venues in November.
Its motto is "a festival without limits to genre," but more importantly, the musical artists of multi-generations are all most highly acclaimed.
Before the Festival, there is a special concert Sept. 3, of "War Requiem" by Benjamin Britten at Prague Castle. This anti-war oratorio will be performed by the Prague Philharmonia, Czech Philharmonic and Kyiv Symphony Orchestra along with a children's choir and international soloists.
"War Requiem" was written in 1962 to mark the restoration of Coventry Cathedral in the UK, destroyed during World War II. It is known as a pacifist manifesto with words of the soldier-poet Wilfred Owen, who was killed in the last week of World War I, at the age of 27. His words (and life cut short) inspired Britten's music.
Benjamin Clementine, a young composer and pianist, officially leads off the Festival, Nov. 1st. He is noted for his voice (spinto tenor) and a rags-to-riches story; born in London (1988), lived as a homeless busker on the streets of Paris, till he was discovered by a French talent agent; a triumphant return to the UK to win the Mercury Prize in 2015. His baritone voice is a modern-day Paul Robeson with similar concerns for social issues in his lyrics; musically, he traverses pop, contemporary classical and jazz.
The rest of the musical program includes almost all other genres except for heavy metal and punk. There will be jazz royalty, Ron Carter (double-bassist with his trio); JACK Quartet (avant-garde, contemporary strings chamber music); Angelique Kidjo (African pop and soul); Alva Noto & Ensemble Modern (chamber music orchestra with electronica and visual art projections); Owen Pallet (violinist, and vocalist with electronica and loops); Nathan Fake (high-energy electronica with video); Kofi Stone (British hip-hop and soul); Bert & Friends (Czech experimental pop, nu-jazz and indie rock mix).
Just to highlight a few of these: Carter is best known for his period with Miles Davis as part of Miles' Second Great Quintet (1964-69) which included Herbie Hancock, Tony Williams and Wayne Shorter. While in more recent times, Carter recorded on the soundtrack for "Twin Peaks – Fire Walk With Me" on those sultry jazz compositions of Angelo Badalamenti.
For the nightclub atmosphere, Nathan Fake, a major British electronica producer will be performing in a special location, CAMP (Center for Architectural & City Planning) for a unique visual and aural convergence of his video projections with music; and for closing, Bert & Friends, a future-sounding band revives Czech pop with its retro feel.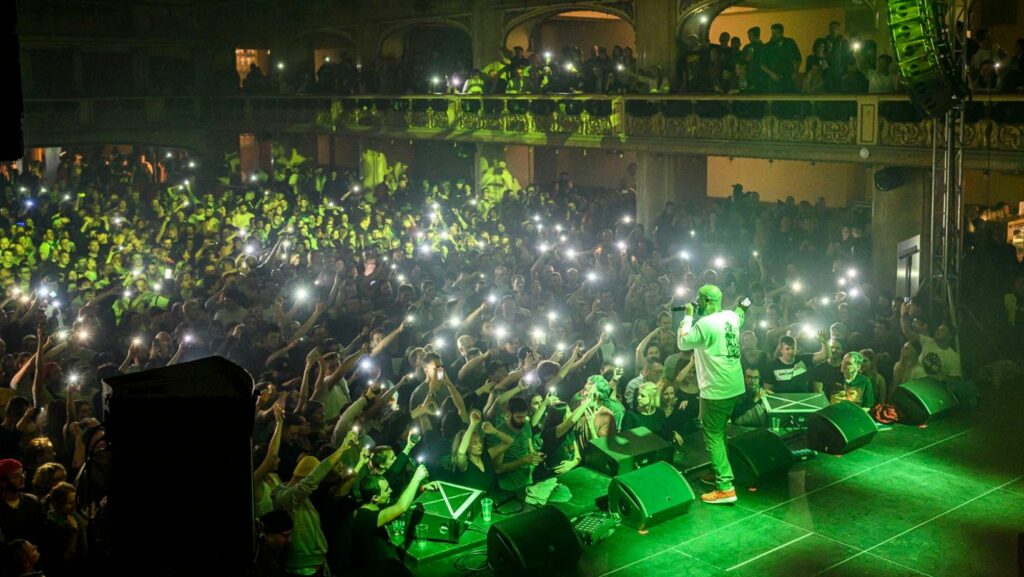 The opening and closing shows underline the youthful appeal on the program with Benjamin Clementine and Bert & Friends both at Rudolfinum; while other sites include more popular venues as Karlin Hall, Lucerna Music Bar, La Fabrika, CAMP, DOX Contemporary Art Centre, and the National Gallery of Prague at the Trade Fair Palace will be hosts for at least one evening of The Festival.
For more details on the program including times and tickets, see the website for Prague Sounds
Anthony Braxton , who turned 78-years-old in June, is premiering a section of his long-term multimedia opera project, the Trillium cycle, performed by the Prague Music Performance Orchestra with Braxton's participation.
The concert will be on August 1, at DOX Centre for Contemporary Art.
Anthony Braxton is an extraordinary American composer, collective improvisation musician, and a university music educator who has had a profound influence on the development of free jazz, improvisation and experimental music. He performed for his first time in Prague in 1986, playing jazz, and he has kept this region in his heart, as an inspiration and open for collaborations ever since then.
Braxton (born 1945 in Chicago) has always been part of the experimental side in Black avant-garde music initially by joining the AACM (Association for the Advancement of Creative Musicians) in Chicago. He is influenced as much by free jazz pioneers, John Coltrane and Albert Ayler, as well as melodic saxophonists Warne Marsh (cool jazz), and Paul Desmond, who played with Dave Brubeck, and the contemporary classical composers including Stockhausen, John Cage, and Charles Ives.
But it is this foundation, merged with opera within classical music forms that has been his most ambitious project for over 20 years. Braxton does not consider himself (any longer) as a jazz musician (though he has been named an NEA Jazz Master), nor does he at all consider himself a classical musician. Yet, he brings these two worlds together with schooled musicians from both sides. And this is where the forty-plus member Prague Music Performance Orchestra best fits into his artistic vision.
Braxton has a highly complex and unique system of writing and thinking about his music, as a metaphysicist, alchemist, mathematician or astronomer, influenced by socio-political issues and life experiences; it is complicated yet inspiring for musicians, since it includes standard notation, graphic scores, structural navigation, while incorporating improvised sections (i.e. freedom for the musicians).
However, Braxton explained it in the simplest of terms at a press conference in Prague, last week: "Trillion is in 35 parts, composed over 20 years combining the worlds of jazz and classical music."
Best suited for this, the Prague Music Performance Ensemble (expanded to an orchestra for Braxton) is an array of first-rate experimental and improvisational musicians under the activities of the Prague Music Performance Institute. The PMP orchestra includes Marcel Bárta, George Cremaschi, Didrik Ingvaldsen, Andrea La Rose, Michal Wróblewski, etc., and it is conducted by Swiss trombonist Roland Dahinden, who was a student of Braxton's in the United States, and since then a trusted collaborator.
According to Dahinden, "PMP is a body of sound. And it is growing into a group with an international recognition with 45-50+ members."
Braxton and the PMP will then perform the same concert in Germany later in the week, on August 5th, at the prestigious Darmstädter Ferienkurse, Darmstadt Summer Course 2023.
Although a legend in jazz, Braxton is lesser known as a contemporary classical composer, though he should be considered in the same league as John Adams, John Cage, or even Frank Zappa; in Braxton's case, he is foremost in merging contemporary classical with jazz and experimental music due to his atypical background as a 1960s-70s era free jazz-improvisational musician. But his compositions now combine classical musicians with jazz musicians for (in his words) "trans-idiomatic improvisations."
And with all of his performances, Braxton has one essential goal: "I'm looking for a surprise," he says.
The Metronome Festival has built a reputation as the veritable summer music happening in Prague by bringing internationally top-names along with the best of local talent across musical genres for four evenings and three full days in June.
Beginning the 21st with two evening concerts, altogether there are 66 artists-groups on the program. Then from the 22-24th there is an accompanying program making it a Music & Arts Fair with art exhibits, installations, workshops, film and theatre productions, and special attractions.
The music headliners are Jamiroquai, M83, Moderat, Zaz, Aurora, Tove Lo, and more. 
Jamiroquai has played Metronome before, and so their return is due to the nostalgia factor. The leader Jay Kay was a celebrity of the acid jazz scene, and their "chill out" vibe defines the 1990s post Velvet Revolution daze.
From this perspective "Return of the Space Cowboy" their second album from 1994, and certainly their most popular recording, should be the motto for these London funksters' return. 
In contrast, music for the millennials is best served by M83, a French electronic group (dream-pop, synth-pop meets alt-rock) who has been based in Los Angeles practically since their rise to stardom. M83 is the second-wave of French groups, singing in English and following Daft Punk, representing a golden era for European-pop.
Even with album titles like "Dead Cities, Red Seas & Lost Ghosts" (their second from 2003), overall, M83's sound has a dramatic yet optimistic uptick, so it is ideal for festivals and festivities. M83 has a new album "Fantasy" released in March 2023, and still sounding in top-form.
Moderat is a German electronic trio (a so-called super-group) from Berlin. Formed in 2003, this makes them children or even grand-children of the Kraftwerk generation. They are comprised of Sascha Ring (aka Apparat) and Modeselector (a duo consisting of Gernot Bronsert and Sebastian Szary).
With their lyrics in English, they have an international appeal, and at their best, their minimal techno builds to a potent electro pulse especially live. To confirm their intense live performances, they won "the #1 Live Act of the Year" already back in 2009, by readers of the online music magazine Resident Advisor.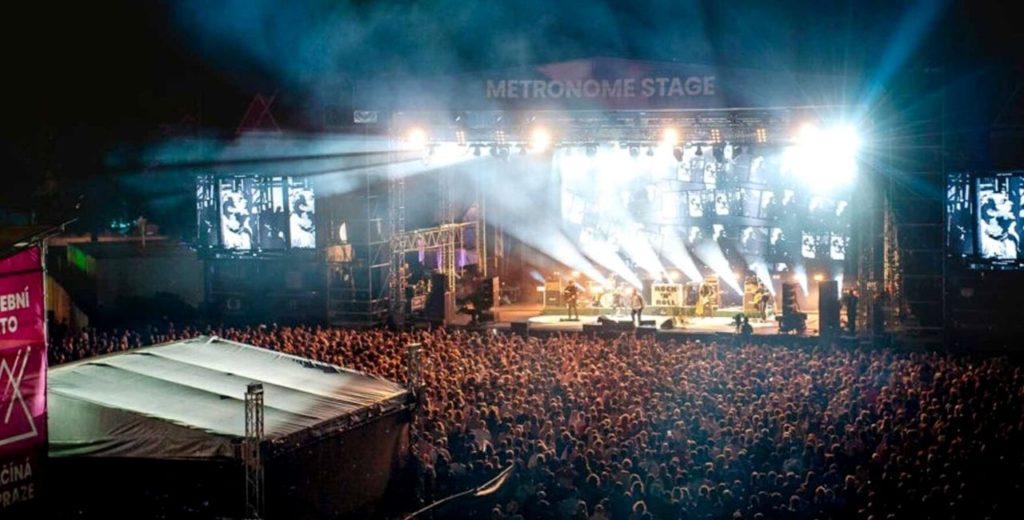 Earlier evening headliners include three phenomenal pop divas including Zaz from France, Aurora from Norway, and Tove Lo from Sweden. Zaz combines joie de vivre with chanson and the tradition of powerhouse melancholic French singers like Edith Piaf. Aurora is remarkable for the overwhelming and uplifting force of her voice, and especially in live performances, and still as only a young artist on the rise. While also singing in English, like Aurora, Tove Lo is more of a mainstream pop artist. 
Highlights of the Czech scene include pop-rocker David Koller on the opening night, and two groups (singing in English) but most of all noted for their dance music oriented shows. One is the super-group of funk-pop led by Roman Holý as Monkey Business Spexial; the other is electro-dance-rock group Mydy, led by Žofie Dařbujánová, and already successful on the international music festival circuit. 
There are late night concerts (DJs and electronic music artists) on Friday and Saturday including surprises like the Canadian electro-punk musician and visual artist Camilla Sparksss, who is scheduled to play at approximately 3:00 am on Sunday morning. Too bad for those who go to sleep a bit earlier.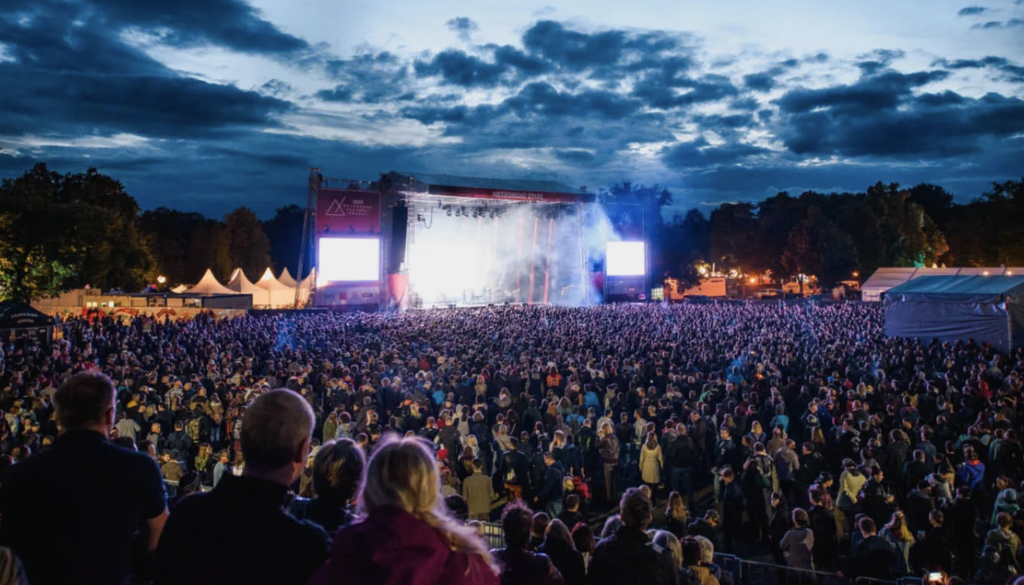 The Festival has also expanded to a much wider program of art installations, exhibitions, theatre and film, workshops, and other attractions.
Highlights include the work of H.R. Giger (a unique realization of his "Alien" from the 1979 sci-fi horror film by Ridley Scott), and a sports zone organized by the Czech Olympic Committee honoring Věra Čáslavská, the legendary gymnast and Olympic gold medalist from 1968.
She is the most successful Czechoslovak sportswoman ever, and the fourth most successful Olympic sportswoman in the world. However, she paid a price for her political convictions (under the Communist regime). In honor of Čáslavská, the theme of the sports zone is titled "Courage."  
Last year, Metronome was hit hard with a bad luck of lightning storms on the main evenings. Let's hope that the storms will not disrupt this ambitious festival again. Rain or shine, the Festival will go on. 
The Respect Festival is an annual two-day and evening musical and multicultural event, and this year kicks off with a ceremonial and meditative tone.
Rangamatir Baul, led by Rina Das, from West Bengal, India, begins the outdoor gathering on Saturday afternoon, June 17 th .
Rina Das is considered the "Queen" of Baul music and Baul music is called the "soul of Bengal" meaning it is needed to have a good society – it is not a religious music, but a spiritual music taught to the musicians by their gurus, and at its heart, the music is a celebration of humanity; it is said to be about "self-discovery," so knowing yourself is the essence of Baul music. With or without the yoga mats, this could become a transcendental meditation experience for all.
Headlining Saturday is Adedeji, delivering a healthy dose of Afrobeat, the trademark sound of Nigeria, in the tradition of the late Fela Kuti, though "he" lives on via his sons Femi and Seun.
Afrobeat is a get-up-and-dance music bringing together West African traditional music and its rhythms with influences of jazz and soul, especially James Brown, plus a strong political punch.
Another notable group on Saturday is Al Bilali Soudan from Timbuktu, Mali. This is Saharan dessert blues, a slow trance music performed by a multigenerational band of master musicians.
Also on the program for the first day are musical artists from Europe, including Corina Sirghi si Taraful Jean Americanu from Romania, and Damir Imamovic from Bosnia and Hercegovina.
On Sunday, the program begins with still more African music: Dur-Dur Band from Somalia. This group brings a high-energy funky Afro-dance party to make sure that no one is still sleeping.
Following this group, the Meral Polat Trio is a European act from Holland, led by vocalist and songwriter Polat, with a sound influenced by Kurdish folk but also modern jazz and rock. Polat's lyrics are in Kurdish, Turkish, Greek and Farsi, all cultures that influence their music profoundly.
Another highlight on Sunday is the Kastrup Quartet, led by percussionist Guilherme Kastrup (based in Sao Paulo, Brazil), and apparently he has some Danish roots. Kastrup brings together Brazilian and African roots music for his own more experimental and modern sound aimed at reawakening our humanity. They have a samba soul approach with electronica for a full impact.
Closing the festival is KUTU with members from Ethiopia and France. Led by a pair of young Ethiopian female vocalists, this is the cross-over ethno-pop sound that gives the West European music scene its most distinctive world-music flavors, and it is a pure alternative to techno.
Overall, the groups for this year's Respect Festival represent most continents and with a universal appeal to community, celebration and multicultural awareness for our mutual survival.
Prague Music Performance brings the top of the crop in the avant-garde for one-night events; in recent times this has included last year's guest, Roscoe Mitchell (last standing founder of the Art Ensemble of Chicago), and previously John Zorn for his bagatelles 5 hour-non-stop marathon.
This year brings the "Music of Terry Riley & La Monte Young" as minimalist innovators of legendary status who both influenced developments in music from the earliest art rock of the Velvet Underground to No Wave, and inevitably more popular music from disco to electronica.
There will be two compositions performed for this evening, each approximately an hour.
Terry Riley's "In C" is a series of 53 short musical figures played in sequence by any number of players and with any instruments depending on the whim of the moment. Two hits of the C-note plays over this on piano (or keyboard) and best result is an hypnotic even hallucinogenic journey. The careful attention to modal variations and repetition makes it an iconic step in modern music.
"In C" was first performed in 1964, in San Francisco, and when it was released on album in 1968, the linear notes had the stamp of approval from San Francisco reviewers of classical music and the rising psychedelic rock scene. The classical music reviewer of the Chronicle said this: "You feel that you have never done anything all your life but listen to this music and as if that is all there is or will ever be…." The rock critic of Rolling Stone said this: "All right, so let's say that what we have here is a 'trip', a voluntary, unpredictable absorbing experience…."
Modern classical music and contemporary electronica is rooted in this earliest experimentation.
Similarly, La Monte Young's "Composition # 7" as a counterpart for the evening is ideal. La Monte Young is lesser known as a minimalist composer (compared to Riley, Phillip Glass or Steve Reich). Yet he preceded them, starting first in California (at Berkeley) then relocating to New York City where he lived for the rest of his life (mostly in seclusion) in his Dream House.
La Monte Young's Dream House was merely a loft on the Lower West Side, but notable for New York artists as being a space for experiments with continuous light and sound under the auspices of his Theatre of Eternal Music. Eternal music as extended drone pieces influenced by free jazz, Indian ragas or Moroccan trance music. John Cale of the Velvet Underground was a collaborator.
"Composition # 7" written in 1960 and most influenced by John Cage and Zen philosophy consists of two notes: a B3 and F#4 held in suspended time for what seems like an eternity.
Not just any musicians can play these for maximum listening experience, and so for this evening, Prague Music Performance has invited Gareth Davis, Roland Dahinden, Robin Rimbaud, Agathe Max, Pau Solas Masfrets, Arthur Klaasens, John Eckhardt, Daniel Havel and Martin Švec.
And the performance will be in a site-specific arrangement so the audience can move around or lounge at their pleasure. This makes it an interactive experience and one truly unique at that.
For more information, see Prague Music Performance (pmpif.org)
After 25 years, the prestigious Strings of Autumn Festival in Prague has renamed itself to Prague Sounds, yet in its newest form, it is still a festival without limits to genre. Only from now, it won't be limited to only one season of the year. 
Prague Sounds The Festival in 2022 kicks off on October 23 with Snarky Puppy, a jubilant jazz-fusion big-band originally from Denton, Texas. They are a multicultural phenomenon also influenced by gospel and rhythm & blues; they've just won a Grammy (2021) for "Live at Royal Albert Hall" for Best Contemporary Instrumental Album. On Sunday the 23rd, they'll be at Lucerna Grand Ballroom.
Other outstanding artist-musicians invited to Prague Sounds which runs till November 24th include Chris Thile, the Brandt Brauer Frick Ensemble, the all-star Redman/Mehldau/McBride/Blade jazz quartet, Makaya McCraven, Laura Mvula, and Nils Frahm.
Chris Thile is an American mandolin virtuoso from The Punch Brothers. He will be performing a solo recital of acoustic music from Bach to bluegrass and the blues at La Fabrika on Monday, Oct. 24th.
The Brandt Brauer Frick Ensemble from Berlin are an acoustic-classical trio or troupe of musicians recreating without electronics the deep house and minimalist techno music they have grown up with. Visually, they recall the futuristic German group Kraftwerk for their stiff postures, but BBF pushes beyond that comparison, since they are more inspired by minimalist and avant-garde composers, like Steve Reich and John Cage. BBF are playing Tuesday, Nov. 1, at Dox Centre for Contemporary Art.
Redman, Meldau, McBride, Blade are promising a "Mood Swing Reunion." These are top jazzmen, all leaders of top-notch groups in their own right and such super-groups are a rare occasion in this town. It's Joshua Redman on saxophone, Brad Meldau on piano and keyboard, Christian McBride on bass, and Brian Blade on drums, Wednesday, Nov. 2nd at Lucerna Grand Ballroom. 
Makaya McCraven is a jazz drummer extraordinaire nicknamed the "beat scientist" for his finesse and innovative use of electronics. He brings together jazz, hip-hop and clever experimentation, and his newest album is a tribute to the Blue Note Records label with updated versions of rare groove tracks. His previous project was similarly a tribute to forgotten heroes; in this case it was the jazz vocalist and political poet Gil Scott Heron. McCraven will be with his group on Sunday, Nov. 13th at La Fabrika.
Laura Mvula is a British soul and R&B singer who has been called the Nina Simone of our era. Previously she has performed with the Brno Philharmonic Orchestra for the Strings of Autumn Festival, and this time she will be bringing her style of urban pop to the Roxy on Wednesday, Nov. 16th.
Then there's a concert for a Czech jazz legend as the centerpiece of the festival. This one is a very special 80th birthday concert for the flutist Jiří Stivín, who has made considerable jazz recordings since the 1970s. Stivín is also a composer and multi-instrumentalist, who has had a profound influence on the Czech culture. His concert and "birthday party" will be on Saturday, Nov. 19th at the Rudolfinum.
Prague Sounds closes with Nils Frahm on Thursday Nov. 24th at Forum Karlin. Frahm is a German electronic artist and neo-classical composer, who is quintessential to the philosophy of The Festival: artists taking daring approaches with the newest technology or unique instrumentation for their music (with no restrictions to their genre) while ultimately performing concerts with a wider popular appeal.
Jah Wobble and his group Invaders of the Heart keep the flame alive for a legendary figure of English post-punk, as Wobble was a founding member and original bassist of Public Image Ltd.
Public Image Ltd. (or PiL) was the group that arose from the ashes of the Sex Pistols. Lead singer of the Sex Pistols, aka Johnny Rotten, retook his birth-name John Lydon to lead PiL. And Jah Wobble as the bassist replaced Sid Vicious, who had become a self-destructive junkie.
Wobble played with PiL only on their first two albums, but these are musical landmarks: "First Issue" (1978) and "Metal Box" (1979) renamed "2nd Edition." Especially, "Metal Box" by PiL with its haunting vocals and cryptic lyrics of Lydon, and Wobble's steadfast musicianship with a relentless, hyper-rhythmic assault on bass that melts into a gloomy trance-dance music. At that time, it was the perfect antidote to proclaim the death of the English (UK) punk-rock era.   
Wobble has revisited "Metal Box" by PiL for a 2021 recording with Invaders of the Heart, titled "Metal Box-Rebuilt in Dub." The core basslines are the same (as they must be) but in his updated Dub versions, the songs are faster and reborn with a more upbeat dub rockers' vigor.
Wobble will be performing many songs from this recording on his 2022 tour, since his expected 2021 tour for "Metal Box-Rebuilt in Dub" was hindered due to Covid restrictions.
Dub was also a close cousin (politically) to many of the early Punks in 1970s England. And Jah Wobble was a part of this scene, as John Wardle (his birth-name) born 1958 in London's East End.
The Jamaican music community in London with its renegade Reggae and Dancehall Dub Sound Systems of the 1970s strongly influenced The Clash, more than any other leading Punk group. So Jah Wobble's Dub versions of "Metal Box" are not even surprising to his older fans.
Wobble and his group Invaders of the Heart have several other solid recordings of their own music, which is not only influenced by Dub and Reggae, but World Music and Rock as well.
Their 1991 recording "Rising Above Bedlam" was a shortlisted nominee for the UK's prestigious Mercury Prize in 1992. This one has a pop-oriented yet gritty World Music groove.
It also includes most notably Sinéad O'Connor and Natacha Atlas as special guest vocalists.
Jah Wobble with Invaders of the Heart brings together top artist-musicians from across genres for full-hearted sounds of a global musical community above all else. They are playing at Palac Akropolis, Thursday, November 3.
For more info: Jah Wobble & The Invaders of the Heart – Rachot