Climate Change Could Soon Affect the Taste of Beer, New Study Says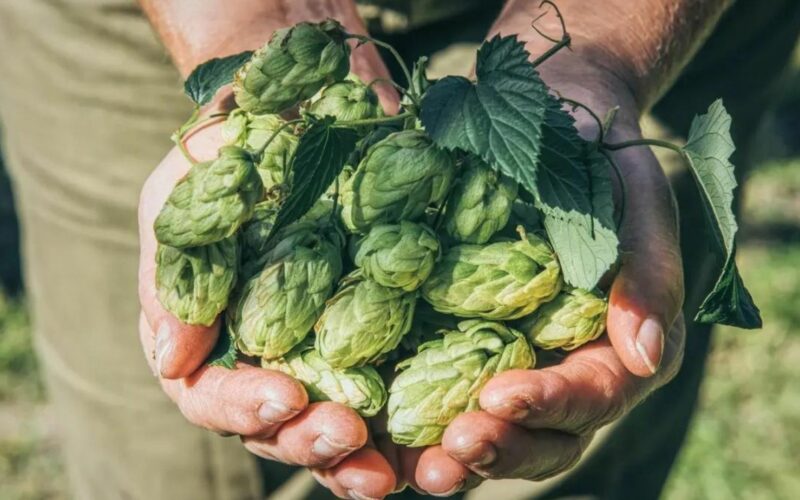 Beer lovers beware: climate change could soon make the world's most popular alcoholic drink much more bitter.
Climate change could soon be altering the quality of hops used to make beer which will then alter the flavor, according to a new study published Tuesday in Nature.
European beer-producing regions are projected to experience up to an 18% reduction in their yield of traditional aroma hops by 2050 and up to a 31% reduction in hop acids that are key for bitter flavoring, researchers found.
Beer is the world's third most widely consumed beverage, after water and tea, and is the world's most popular alcoholic drink, according to the paper.
The cultivation of high-quality aroma hops is restricted to a relatively select number of regions with suitable climate and environmental conditions — posing a risk that production could be affected by rising global temperatures.
Hops are considered a model crop in these regions, and it is "fairly difficult" to grow them elsewhere, Mirek Trnka, a bio climatologist at the Global Change Research Institute of the Czech Academy of Sciences and one of the authors of the paper.
The researchers collected data on beer hop yields and alpha content between 1971 and 2018 from 90% of European beer hop growing regions in Germany, Czechia and Slovenia, according to the study.
The association in variation in the quality of hops from year to year with rising temperatures was "quite significant," with a downward trend in the data that coincided with warmer years, Trnka said.
The findings show that, compared to before 1994, the ripening of hops starts 20 days earlier, and hop production has declined by almost 0.2 tonnes, or about 200 kilograms, per hectare per year. In addition, hops' alpha bitter content has decreased by about 0.6%, the research found.
After combining the past data with climate models, the researchers estimate that beer hops yields and alpha fold content will be reduced between 4% to 18% and 20% to 31%, respectively, by 2050.
The largest declines caused by rising temperatures and more frequent and severe droughts are expected to occur in the southern hop growing regions, such as Tettnang in southern Germany and Celje, Slovenia, according to the paper.
The quality of spring barley is also declining in many of the same regions, but farmers can easily compensate for rising temperatures by moving spring barley crops to higher elevations, Trnka said. By contrast, winter hops need to mature in the period of shortening day after the summer solstice, and they cannot avoid the increasing intensity of the summer heat, Trnka said.
Every year, beer makers are faced with different qualities of harvest for barley and malt and have to deal with the variation in the quality of hops — often mixing hops from different regions, Trnka said.
"They are quite clever in ways of avoiding consumers noting any major differences," Trnka said. "Unlike wine, beer drinkers would like their Pilsner or Aryan beers to taste the same every year."
However, if the quality of the ingredients is decreasing everywhere, adjusting the recipe year by year depending on how the harvest yields could become much more difficult. Farmers may be able to adapt, but it will take a tremendous amount of capital and investment, Trnka said.
The results of this study show that climate change has the ability to affect people on a wide scale of issues, Trnka said.
Europe is among the regions of the world facing unprecedented increases in average temperatures in recent years, Trnka said. Copernicus, Europe's climate change service, announced last week that 2023 is on track to become the warmest year on record, with Europe being one of the continents affected the most, according to the report.
Traditional beer hops farming practices will need to adapt in order to combat the negative effects of climate change and continue producing good quality beer, the researchers said.
NEWSLETTER

Subscribe for our daily news

FOLLOW US ON FACEBOOK!

facebook