The Lunchmeat Festival returns with its Autumn program from September 25th – 30th.
Dedicated to electronica with an emphasis on visual and musical artists in collaboration, Lunchmeat brings the highest level of experimental digital artists collaborating with musicians/producers/DJs annually. Lunchmeat Festival includes a symposium, and it is spread out in venues around Prague, for a most local flavor.
While this is an international festival with mostly multi-nationality collaborations, this year's program is de-emphasizing headliners, for a more helpful promotion and support of the local artist community.
The musical programming has been refined for this year's festival, and that said, some visiting artists are contributing to a noticeable shift to a dreamier side, for instance Marina Herlop from Catalonia, as a classically-trained, experimental pianist and vocalist. Her 2022 album "Pripyat" is refreshing (singing in an imagined language); her voice is influenced by Bjorn, Laurie Anderson, and possibly even the Bulgarian Woman's Choir, but uniquely as a solo project (thanks to vocal manipulation/digital production), she makes a wondrous sea of dreams in sound.
Another classically-trained pianist, Corin, takes this approach to an edgier zone with her project Lux Aeterna (an AV live performance). Corin is described as music for the end of our civilization, with computer-machines run amuk, and the surviving humanity as mutants. She is their dramatic soundtrack.
Overall, the programming of Lunchmeat can alternate between dreamy soundscapes (with complimentary visual projections) to sonic-thumping celebrations or brute assaults (with overwhelming or blinding visuals to match). One of the hardest hitters in electronica, in this year's festival, is Evian Christ, from the UK, who is best known for his collaborations with Kanye West (on West's "Yeezus"). Within electronica, he identifies most with trance but on futuristic or more boldly epic proportions. Evian Christ will perform in an AV live show by a long-time collaborator of his, Emmanuel Biard.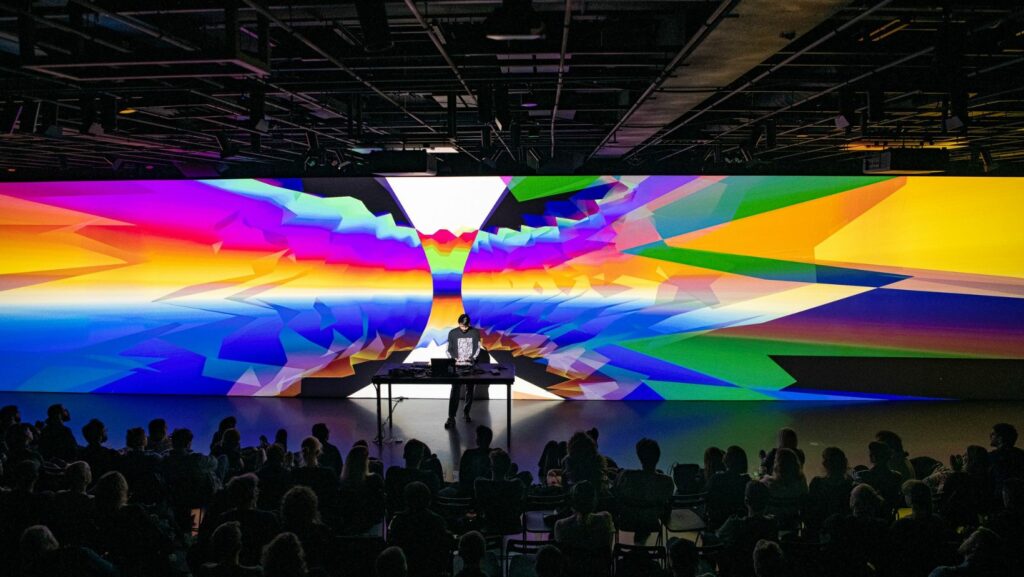 There is a match of high-energy club beats with state-of-the art visuals with Kenyan DJ and producer Slikback and pioneering UK experimental animation and digital art guru, Weirdcore. Their project, VOID, is an audiovisual journey in anime and manga meets afro-futurism (for post-colonial horizons). And for a mixed-genre or fusion-experimenter in Dubstep, there will be the UK DJ-producer Pinch.
The French digital artist, Sybil Montet with award-winning Danish electronica composer, SØS Gunver Ryberg, who is also a sound-artist and performer (DJ) will present the world premiere of their project "Weaving Fields." This live AV performance has been commissioned by Lunchmeat. Duos, such as this one, are the highlights of the festival when artists create immersive club experiences.
Choreographic theatrics is a new addition with Hakanai, a French duo (Claire Bardainne and Adrien Mondat), with an immersive project and a social message. Their name comes from an ancient Japanese term for impermanence, fragility and the brevity of certain transitory states including humanity's brief period on Earth, which seems to be pushing to its end at a rapid pace. But such are the cycles of life.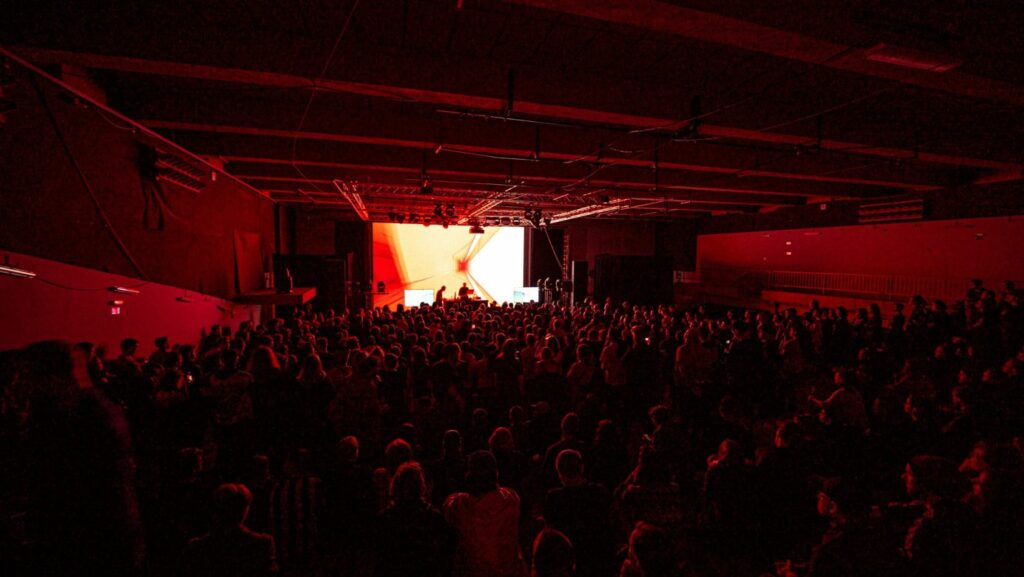 There are always artists from Berlin for this festival, and this year includes Bill Kouligas, who is also founder of the music label Pan (which coincidentally released Marina Herlop's "Pripyat"). Kouligas can be a high-plains ambient drifter, but he will perform a DJ set that will certainly not be for chill-out. Also from Germany, there is Space Drum Meditation (from Hamburg) for dark, driving percussions.
The Korean artist and musician, bela, from Seoul but based in Berlin, is most influenced by Korean folk music and club culture, and so they bring an altogether different recipe to the menu. Then Meuko! Meuko! as a DJ and producer from Taiwan teaming up with Taiwanese visual artist NONEYE have an immersive experience steeped in Taoist and Buddhist dieties as a ritualistic feast for eyes and ears. Such variety in the programming underscores that Lunchmeat is unmatched in its international scope.
But with such a platform, it is also an opportunity to highlight top local artists, including those who are rising in the international community, such as MARTYYNA, a Prague DJ and producer who debuted in 2020 with her EP "Awaken." During the day, she is a professional architect, but an artist by night (when she is performing) inspired by the confluences of music and architecture. She will perform her debut full-length recording "Written in the Scars," which features Czech artist Oliver Torr and the Basque-born Berlin-based producer Portento. This performance will also debut a new AV show with MARTYYNA and another collaborator of hers, the Prague-based visual artist Igor Lorok.
For the 14th annual Lunchmeat Festival, the venues continue with its headquarters in an underground space at the National Gallery's Trade Fair Palace, then alternative sites including Archa Theatre, CAMP, and Ankali. It is a five-day event (with an emphasis on late-night till dawn attractions for some venues).
And for just the curious, on Saturday, 30th of September, there is an open-air event outside of the National Gallery (Veletržní Palác) with surprise DJ guests, and this is a free event to the public.