Tips To Stay Sane While Staying & Working From Home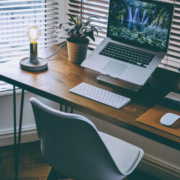 As a result of corona-virus, many of us are forced (and lucky to be able) to work from home. For people who never worked from home or for those parents who have to take care of their kids while working from home, this may be a challenge.
As someone who works from home for a couple of years, I know how hard it is to get some regime and not get lazy. However, with the quarantine, I had to adjust my daily routine as well. Here are my tips on how to stick to your work routine while at home but also, how to not get crazy in general.
1. Change into normal clothes and put yourself in order
To me personally make a huge difference if I do my morning routine as I would getting ready into an office or a meeting. Days, when I was less productive, were when I stayed in my pajamas all day with messy hair. Take a shower, make yourself pretty and wear some normal clothes. It may seem ridiculous but it helps me to divide my day into working and not working hours and boost my productivity. Remember if you don't put any effort into yourself, you will not put proper effort into anything else.
2. Create a schedule and stick to it
I try to create a daily schedule each morning with my coffee. It may be small points, but sticking with them helps me to achieve my daily goals. Don't postpone your work duties for later to watch an episode of your favorite Tv Show. If you have scheduled a meeting make it virtual. Try to stick to normal working hours. For instance, I try to start every day at the same hour around 9:00 am and finish not later then 5:30 pm.
Here are my favorite to-do apps:
Doodle
Google Calendar
Shifty
3. Create your workspace at home
Find a space where you feel good and try to work from there each day. It's important to divide a space into a house for relaxing and working area just like in apartments for rent in El Paso. Never work from bed or a sofa, simply because it makes you feel lazy and should be a place where work doesn't exist. Keep your workspace tidy each day so the next morning you come to a nice and clean environment
4. Take several breaks in a day
Try not to over-work. As you are at home and you don't have your colleagues next to you to chit chat time to time, it's important to take those small breaks during a day to distract yourself from work. Cuddle your pet, do some little exercise, call your family or friends or listen to your favorite podcast. Breaks are important when working at home!!
Here are my favorite podcasts:
5. Do some activity every day
Being at home is harder than one can think. Not having physical activity for a long time is crazy, even if it is just walking or cycling to work and back. I start each day with 10 minutes morning yoga flow and continue with 20 minutes home workout. Before I go to bed, I also do a little bedtime yoga just to keep some routine. There are plenty of workouts you can do from the comfort of your home.
Here are my favorite workout apps:
6. Take an online course
Not a better time than now to get some new knowledge or push your area of expertise at a higher level. Online courses are a great way how to learn something new to put in your CV and keep your mind busy while staying at home. You can also start to learn a new language online, it's up to you what you choose, possibilities are infinite.
Here are my favorite online course platforms:
7. Socialize with people virtually
Call your family and friends daily and ask them how they are. Organize a video call with your friends like you would normally do when meeting for a coffee or a glass of wine. Keeping a normal social life while being lockdown is important for your wellbeing. Call people, you didn't hear for a long time to ask what is new and keep the relationships on
8. Organize your house and devices
I bet we all have things to do at home. Reorganize wardrobe before spring/summer season, select clothes we don't wear anymore and put them in the bag for charity, clean kitchen cupboards properly, organize a cosmetic, etc. It's always plenty to do at home. Another good tip is to organize your smartphone, computer, and apps. I went through my pictures, Pinterest boards, apps, and computer and took me some time to put them in order. This is a time to do it! You may find some nice memories you forgot like favorite songs in old Spotify playlists or some random pictures from your traveling.
Here are my favorite organization apps & platforms:
Evernote
Wunderlist
To-Do List
The life-Changing magic of Tidying Up
Home Routines
Cleaning Checklist
Flickr
Piktures
9. Make each day special with small things
This means something else for everyone. You know what makes you happy or in a better mood. For instance, you can re-watch your favorite tv show from back in the days which makes you think of nice memories from the past. Cook a nice dinner with your partner and have a romantic evening with a movie. Open a nice bottle of wine you were saving for special moments, make a small plan for the future, etc.
Here are my favorite Tv Shows to watch:
Breaking Bad
Saturday Night Live
Californication
Ray Donovan
Friends
Gilmore Girls
Stranger Things
The Sopranos
Hunters
The Crown
Curb Your Enthusiasm
Family Guy
10. Have a good night sleep
This is a great opportunity to finally get in some proper night routine. We can't go out late and we don't have to rush in the morning. Go to bed by 10:30 pm and have at least 7 hours of good sleep. It's very important for your well-being and also for the immunity system. Create a good sleep habit and maybe try to meditate before you go to bed. Another good trick to a good night's sleep is to drink magnesium as it helps the body and brain relax.
Here are my favorite sleeping and mediation apps:
Calm
Headspace
Pillow
Relax & Sleep Well
There is always plenty to do. Take an opportunity of these unfortunate times and consider yourself lucky to stay at home and not to have to risk your health and those next to you while carrying out your work duties. It has never been easier to help the situation than it is now. Stay home and do your thing. For those who cry because they cannot go out, trust me, there is plenty of to do just be creative and not lazy
NEWSLETTER

Subscribe for our daily news

FOLLOW US ON FACEBOOK!

facebook