"Panelák" vs "Cihla" ? A Comparison Between Panel and Brick Building With Pros and Cons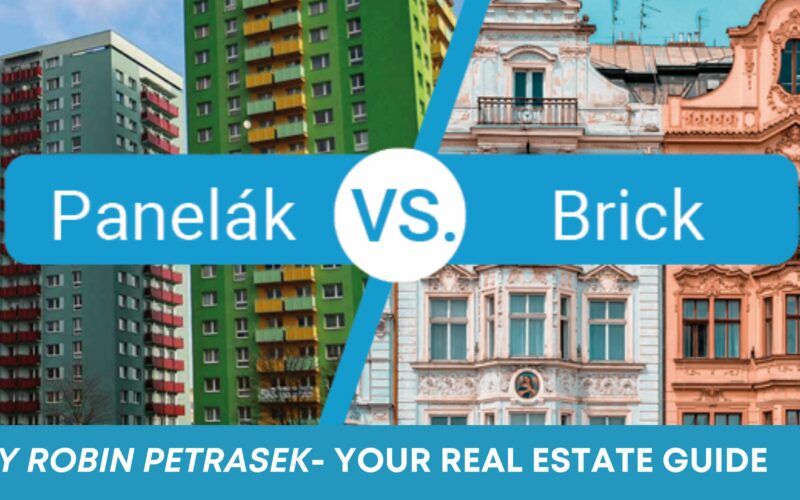 In the Czech Republic, two common types of properties stand out for investment: panel buildings, and brick buildings.
Both have advantages and drawbacks, making it essential for investors and tenants to understand the differences between these choices.
In this article, we'll delve into what panel buildings are, compare energy efficiencies of both types, outline the pros and cons, and ultimately aim to help you decide which type of property is right for you.
What is a Panel Building?
Panel buildings, referred to as 'panelaks' in Czech, are large housing complexes characterised by pre-fabricated concrete panels. They became prevalent in former Czechoslovakia during the mid-20th century as a response to the urgent need for affordable housing. Panelaks are typically high-rise structures with communal spaces. While they might be largely overlooked by expats, did you know that around a third of the Czech population lives in these flats?
They typically offer a variety of apartment sizes, accommodating different family sizes, but the buildings themselves are usually quite similar.
Comparing the Energy Efficiencies
One of the crucial factors to consider when choosing between panelaks and brick buildings is energy efficiency.
Panelaks generally have great thermal insulation as the concrete panels, when well-maintained, provide effective protection against extreme weather conditions. This means they typically have lower heating costs in the long run, making them an attractive option for tenants.
Heating can be made more efficient when the panelak has been insulated using new technologies, most often plastic windows and polystyrene facade. These are usually easily recognised by bright pastel colours, as opposed to the grey ones.
Another factor often overlooked but which contributes to the energy efficiency is that these buildings are connected to the city water pipelines which distribute hot water for heating meaning tenants can benefit from wholesale prices.
When it comes to brick buildings, these are generally well-known for their durability and longevity. They also have an aesthetic appeal which many investors and tenants appreciate.
However, they typically have lower thermal insulation properties compared to panelaks, resulting in higher heating costs during the winter months.
Especially in Prague, because of the historical value of the buildings, landlords are often restricted as to which windows they can put in. This is why you still see many apartments with wooden-framed windows, which contribute to heat loss, even if there is a double set.
Quick tip: If you live in a brick flat, try as the Czechs do in winter – put a cloth between the windows to limit heat loss.
Pros and Cons of a Panel Building
Pros:
Panel buildings tend to be more budget-friendly, making them an attractive option for renters.
Effective thermal insulation often results in lower heating costs.
Many panelaks offer amenities such as playgrounds and green space.
Cons:
Ongoing maintenance and repairs are essential to maintain energy efficiency.
Panelaks often have a uniform and functional design, lacking individuality.
Some may view panel buildings as less prestigious compared to brick buildings.
Pros and Cons of a Brick Building
Pros:
Brick buildings are renowned for their durability and long-lasting quality.
The classic aesthetic is an attractive feature for both investors and tenants.
Some have historical significance, adding to their appeal.
Cons:
Construction is more expensive, leading to higher upfront investment.
They typically have lower thermal insulation properties, resulting in higher heating costs.
They may not offer the same range of on-site amenities as panelaks.
Which Kind of Property, Panel or Brick, is Better to Invest in and Why?
Choosing between investing in a panelak or a brick building ultimately depends on your investment goals, budget, and long-term vision.
If you are looking for a more budget-friendly investment, panel buildings are an attractive option which can have a quicker return on investment.
Brick buildings, on the other hand, can be a solid choice if you prioritise long-term stability and durability. They tend to hold their value well and can be passed down through generations.
Panel vs Brick: A price comparison
If we take Prague as an example, the average offering price of a panelak according to sreality.cz is around 100.000 CZK per m2, while brick buildings are 132.000 CZK per m2. Brick buildings are often in more central areas while panel buildings are in the surroundings, influencing those numbers.
While these are advertised prices, it is normal these days to negotiate and from my personal experience as mortgage advisor a 10% discount is nothing special these days.
When it comes to availability, if we look to Žižkov as an example, there are currently only eight-panel flats for sale, and 181 brick ones. If we look at the whole Prague 4 area, there are 194-panel flats and 274 brick ones.
NEWSLETTER

Subscribe for our daily news

FOLLOW US ON FACEBOOK!

facebook