Still Don't Know Where to Go for St. Martin's Goose?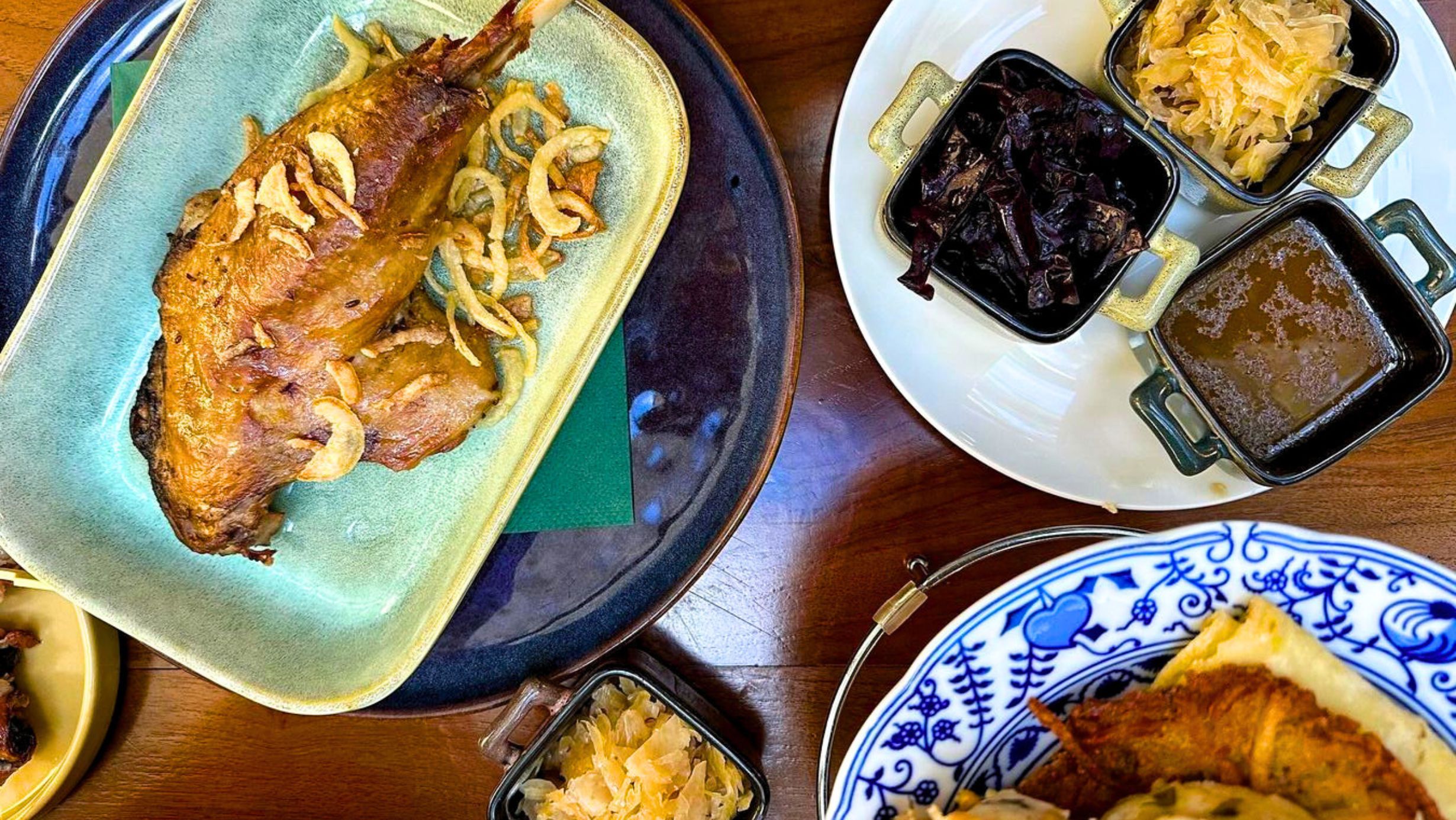 Martinmas, the feast of St. Martin of Tours is traditionally celebrated on November 11. St. Martin was a Roman Catholic saint, the bishop of Tours, who lived in the years 316 – 397.
The most- repeated story about his life says that while he was a soldier, he encountered a scantily dressed beggar at the gate of the city of Amiens. He cut his military woolen cloak in half and shared it with the freezing man.
The following night he had a vision of Jesus Christ, surrounded by Angels, and arrayed in the half of the cloak. As a consequence of the experience, he received baptism, left the army, and became a monk.
People in the Czech Republic associate the feast with the onset of winter and snow. There are a lot of proverbs in Czech, which feature predictions for the winter weather. According to the most popular saying, the first snowfall of the season can be expected on this day since Martin may arrive on his white horse.
It is a tradition to eat roast goose because a flock of geese betrayed St. Martin's hiding place as he was trying to hide from the people, who wanted to make him a bishop.
Where to Go for St. Martin's Goose? Our suggestion
Bohemia Goose is a relatively new spot in the center of Prague that combines the charm of a restaurant with the craftsmanship of a brewery.
Equipped with state-of-the-art brewhouses, stills, and lager tanks, here they craft a range of exceptional beers exclusively from Czech ingredients, including malt from Czech fields and Žatec hops.
On November 11, both for lunch and dinner, you can order a goose leg with sauerkraut, dumplings, and potato pancake for 590kc per person (exactly like the one in the picture!)
However, customers are not limited to the traditional goose; they are welcome to order anything from the menu, according to their preferences.
Behind the culinary delights is Chef Lukáš Uher, who has received numerous international awards for the quality of his cuisine.
At the heart of the brewery lies the expertise of the brewer Aleš Paik. With years of experience in renowned Czech breweries and collaborations with the Research Institute of Brewing and Malting, Paik's approach to the brewing process guarantees the exceptional quality of Bohemia Goose's brews.
NEWSLETTER

Subscribe for our daily news

FOLLOW US ON FACEBOOK!

facebook