Anniversary: Church of St. Ludmila Has Dominated Vinohrady for 130 Years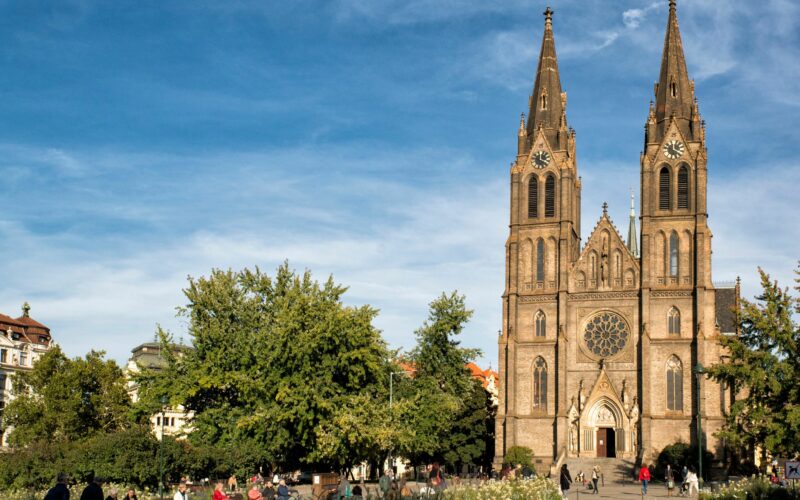 The three-aisle basilica which was built using the plans of the architect Josef Mocker features two 60 metre-high towers with an opulent staircase.
It is a typical North German Neo-Gothic church and it has been 130 years since its consecration on 8th October.
The church was consecrated roughly five years after its construction work started. Its foundation stone was laid down on 25 November 1888. The building came into existence fairly quickly and was financed by the Vinohrady town itself.
Its importance increased after the visit of the emperor Franz Joseph I and the Viennese administration office decided to contribute to its construction as well. The Association for Church of St. Ludmila at Královské Vinohrady also provided a great support throughout.
The paintings and ornaments on the walls are by Johann Jobst. The interior and exterior artwork was made by famous artists of the times such as sculptors Josef Václav Myslbek, František Hergessel, and Antonín Procházka, or painters František Ženíšek and Adolf Liebscher.
Events
The 130th anniversary is associated with a series of celebratory events jointly organized by the Prague 2 Municipal District, the Roman Catholic parish of St. Ludmila's Church, and the Friends of St. Ludmila's Basilica in Prague.
On Sunday, October 1st, at 11 am, following the Mass, the red wine "André 2022-130 St. Ludmila," an extraordinary wine crafted especially for the 130th anniversary of the basilica's consecration, will be blessed.
On Wednesday, October 4th, at 1 pm, students from the secondary schools of Prague 2, children from the children's home in Krompach, and primary school pupils from Vitkov will present a musical and dramatic group titled "I Sought the Radiance of This Morning" in the basilica.
On Saturday, October 7th, at 7 pm, there will be a festive concert titled "130 Years with You." Renowned opera singers Pavlina Senić, Tereza Mátlová, and guest Michael Bragagnolo will perform famous songs accompanied by the Vratislavka choir, under the direction of choirmaster Eva Kleinová.
On Sunday, October 8th, at 11 am, a Holy Mass will be held with the participation of the Archbishop of Prague and Primate of the Czech Republic, Mons. Jan Graubner, and distinguished guests.
On Monday, October 9th, from 10 am to 3 pm and 6 pm to 9 pm, there will be an exhibition of artifacts and religious relics titled "From the Treasures of St. Ludmila."
The celebration will also feature a panel exhibition titled "The Soul of the Vineyard," dedicated to the history and present of the Basilica. This exhibition will consist of eight panels displayed in front of the church. Those interested in the exhibition will have a full month to view it, as it will run from Friday, October 6th, to Monday, November 6th.
Saint Ludmila
Ludmila was born around the year 860. Where? There is speculation about this, but it is probable that it was in Central Bohemia, in today's Mělník, as the daughter of the local prince.
She was raised as a pagan who offered sacrifices to the Slavic gods. At about the age of 15, she married Bořivoj, the first historically documented Přemyslid prince and ruler of today's Central and Southern Bohemia. She was married for about 14 years and during that time, became the mother of 3 sons and 3 daughters. Together with her husband, in 882 she accepted Christianity from the Moravian Archbishop, Methodius.
When she was about 30 years old, she was widowed. But she did not withdraw herself, as was customary. She took a very active part in politics. Many people did not like this and tried to deprive the widowed princess of power and influence over the ruling princely family.
Eventually, Ludmila took refuge in her fortified settlement of Tetín in Central Bohemia, where she was murdered on 15 September 921, strangled by her own scarf, according to legend.
Her death was apparently ordered by her own daughter-in-law, Princess Drahomíra, to consolidate her power. Ludmila has been considered a saint by the people since 925, but her official canonisation from the pope was not declared until 1143.
NEWSLETTER

Subscribe for our daily news

FOLLOW US ON FACEBOOK!

facebook